Jay Leno chats with Magnus Walker about his 1972 Porsche 911 72STR
Tue, 26 Mar 2013 19:58:00 EST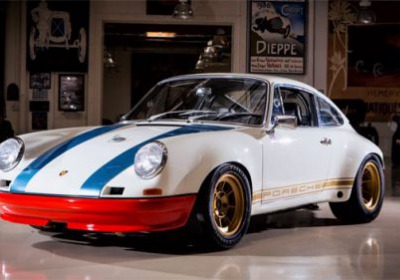 Magnus Walker has stopped by the Big Dog Garage again to pay Jay Leno a visit in the latest episode of Jay Leno's Garage. This time, the Porsche builder brought along his 1972 911 72STR 002. Walker calls the machine his best build to date, and the car is a rolling "best of" from Porsches past, rocking some of the more attractive elements pulled from a wide arc of 911 model years. Of course, the machine also wears a few signature Walker touches, including flush-mount turning indicators, a center-hood fuel filler and plenty of louver work.

Unlike some of Walker's other creations, the 72STR 002 is clean enough to lick. Leno seems suitably impressed with the creation, and while apparently isn't typically a fan of Porsche models in general, Walker's tastefully modified 911 has him singing a different tune. You can check out the car in the video below.


---
By Zach Bowman
---
See also: Amelia Island 2013: Porsche 911 swarms the field marking 50 years of rear-engine goodness, Porsche 911 GT3 wows the crowds in Geneva, 2014 Porsche 911 GT3 and GT3 Cup step out early.