Japanese automakers ramping production for renewed American sales
Wed, 21 Nov 2012 10:01:00 EST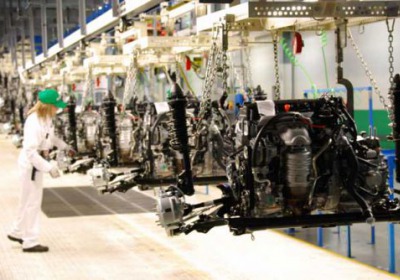 The 2011 earthquake and tsunami that struck Japan took quite the toll on the automotive industry in that nation. Not content to lean on that tragedy as excuse for slagging sales, the Japanese automakers are planning on a major production expansion in North America. The aim is to reclaim the market share lost from the Tsunami-based dip, and overcome a dollar/yen exchange rate that makes exporting to America unprofitable.

Following the Tsunami, Japanese automakers ramped up production in their North American facilities to compensate, but according to Automotive News, Nissan, Honda and others have all reported plans for still-further increased production in the year ahead. As part of this ramp-up, Mazda will open a facility in Salamnca, Mexico before March of 2014. Part of that increase in output is 50,000 units of a Toyota-badged compact car, which Mazda will produce.

Other Mexican production facilities opening include a Honda plant, which will open in Spring 2014 in Celaya, and a Nissan plant, set to open later this year in Aguascalientes. Nissan also said that it will need another plant in North America within the next five years. According to Nissan Boss Carlos Ghosn, the company aims to raise its stake in the US market from 8 percent to 10, and adding production will help achieve that goal. Even Mitsubishi is aiming to boost production at its Normal, Illinois plant. Production of the Outlander Sport is currently at 50,000, which Mitsubishi wants to raise to 70,000.

All of these moves come in reaction to growing demand for Japanese cars, as well as the yen's growing value versus the American dollar. Such a disparity hurts Japanese automakers' ability to make a profit from exporting vehicles. As a result, moving production to the US and Mexico have become the best viable option.
---
By George Kennedy
---
See also: Popular Science magazine's Best Of What's New 2012 all ate up with cars, Four Wheeler crowns Ultimate Factory 4x4... who wins?, Four Wheeler crowns Ultimate Factory 4x4... who wins?.