Jaguar lets first outsiders drive new F-Type
Mon, 17 Dec 2012 16:31:00 EST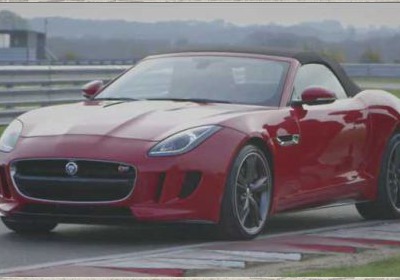 What do you do when you're an automaker with an all-new and brand-defining sports car, one of them with a supercharged V8 cranking out 495 horsepower? You let proven race drivers test them out on track and on the road.

And what do you do if you're Jaguar and you're in that situation? Why, naturally, you make a video of it. That's how we get footage of racers Martin Brundle, Justin Bell and Christian Danner being choppered into the UK's Snetterton track to test the V6-equipped Jaguar F-Type S prototype. Then when they're finished with kerb-lined apexes, they take the V8 S prototype out onto the roads to run it through hedge-lined apexes.

According to one of them, "very fast, very nimble, great engine" is what will soon be headed our way. Check it out in the video below.



JAGUAR F-TYPE: DYNAMIC DEVELOPMENT MILESTONE

- Martin Brundle, Christian Danner and Justin Bell drive F-TYPE prototypes on track and road

- Click here to view and share the film

- Jaguar F-TYPE to arrive in U.S. market in summer 2013 starting at $69,000*

(MAHWAH, N.J.) - December 14, 2012 - The Jaguar F-TYPE has undergone its first dynamic challenge outside of Jaguar's internal development program, following an invitation to three world-renowned drivers – Martin Brundle, Christian Danner and Justin Bell – to put both 380hp V6 and 495hp V8 prototype models to the test.

In cold and challenging conditions at the UK's Snetterton 300 circuit and on the surrounding Norfolk roads, the trio of international racing drivers and television presenters – resident in the UK, Germany and the US – were able to experience the F-TYPE's performance in full.

Their efforts were witnessed by Mike Cross, Chief Engineer Vehicle Integrity, Jaguar, the man who has directed the team which has worked tirelessly to ensure the F-TYPE delivers a truly rewarding sports car driving experience.

"It's been a fascinating day," said Mike. "The entire F-TYPE development program has, from a vehicle development perspective, been focused on delivering a connected sports car driving experience. To witness three respected drivers take to the track and to hear their positive comments validate that our work has been great."

The camouflaged prototype F-TYPE S and F-TYPE V8 S models provided for the test were fully representative of production intent from a dynamic and powertrain perspective. The 380hp F-TYPE S covers the 0-60 mph sprint in 4.8 seconds (0-100km/h in 4.9 seconds) and has an electronically limited top speed of 171 mph (275km/h). Corresponding headline figures for the F-TYPE V8 S are 0-60 mph in 4.2 seconds (0-100km/h in 4.3 seconds) and an electronically limited top speed of 186 mph (300km/h). Both feature all-aluminum construction, Adaptive Dynamics suspension and an Active Exhaust system.

You can view the F-TYPE track and road driving impressions of Brundle, Danner and Bell here.

*Price shown is MSRP. Excludes $875 destination and delivery fees, tax, license, dealer fees and optional equipment.

F-TYPE: Launched at this year's Paris Auto Show, the all-aluminum F-TYPE represents a return to Jaguar's heartland: a two-seater, convertible sports car focused on performance, agility and driver involvement. Three models are available – F-TYPE, F-TYPE S and the F-TYPE V8 S. They are powered respectively by Jaguar's new 3.0-liter V6 supercharged engine in 340hp and 380hp outputs and its 5.0-liter V8 supercharged producing 495hp.

To view the full F-TYPE launch release and associated downloads, click here

Martin Brundle: Following a 13-year career in Formula 1, in 1997 Martin Brundle began a second successful career as television commentator and today is the expert face of F1 for Sky Sports. In addition to his F1 driving career, Martin raced very successfully for Jaguar in World Sports Cars, taking the driver's crown in 1988 and victory at Le Mans in 1990.

Christian Danner: The winner of the first Formula 3000 championship, Christian Danner went on to race in F1, Indycars and touring cars – winning both the Spa and Nürburgring 24-hour races in 1992. He is the F2 lap-record holder at the Nürburgring and today he commentates on Formula 1 for German TV channel RTL.

Justin Bell: After beginning his competition career on two wheels, Justin Bell switched to cars in 1988 and has since raced for many car manufacturers, winning the 1997 World FIA GT2 Championship in a Dodge Viper with a 1998 GT2 Class win at Le Mans in the same car. Today, resident in the US, Justin works for a variety of TV outlets.
---
By Jonathon Ramsey
---
See also: Jaguar Land Rover opens winter testing facility in Minnesota, Jaguar Land Rover may build factory in Saudi Arabia, Jaguar C-X75 production run canceled.