Jaguar XFR-S pitted against Mercedes E63 AMG
Wed, 21 Aug 2013 12:30:00 EST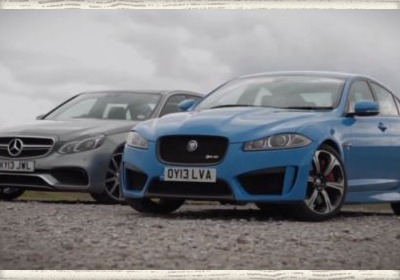 It was Steve Sutcliffe at Autocar who got the tough job of comparing the Mercedes-Benz E63 AMG to the limited edition Jaguar XFR-S on the track and sheep-strewn British B-roads. In UK spec both Mephistophelean sedans wrangle the same 542 horsepower, but step out of the corral and things look to weigh heavily in the Mercedes' favor: it has more torque, it's lighter, it's quicker from 0-to-60 and it's less expensive.

But that's on paper. Sutcliffe was given the job to see what effect all those letters and numbers had on the real-world driving experience. One of them is "an absolute hoot at the track" with great steering and weight management, one is "magnificent." To find out which is which, watch the video below.




---
By Jonathon Ramsey
---
See also: Jaguar crossover won't be based on Evoque or have off-road chops, Dick Van Dyke escapes his flaming Jaguar on the 101, Jaguar rolls out 2014 XJ updates.