Jaguar F-Type 'Design Study' headed to Goodwood
Mon, 08 Jul 2013 19:16:00 EST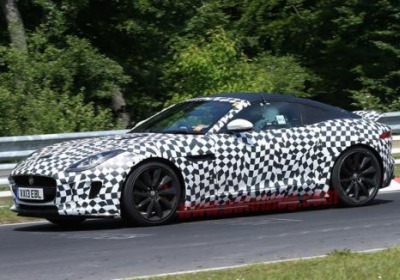 With the Goodwood Festival of Speed taking place this weekend, Jaguar has announced it will be there with its new trio of R models as well as a design study version of the hot new F-Type sports car. While we've already seen the XFR-S last year at the LA Auto Show and the XJR and XKR-S GT at the New York Auto Show, the F-Type design study has our attention.

Based on our recent sighting of a fixed-roof F-Type being tested in full camouflage, this could mean that we'll finally get to see a sexy F-Type Coupe in near-production form. Of course, with all of the other R branded models on display, Jaguar could also unveil a sporty new R – or maybe even an RS – F-Type roadster. Whatever is planned, it will not be a static display – Jaguar says the design study car will be in action, making the fabled run up Goodwood Hill with chief engineer Mike Cross at the wheel. Scroll down for more information about what Jaguar has planned for Goodwood.


JAGUAR F-TYPE DESIGN STUDY TO DEBUT WITH NEW XFR-S, XJR AND XKR-S GT AT GOODWOOD FESTIVAL OF SPEED

IN BRIEF

Three new Jaguar "R" models to make UK public dynamic debuts: XFR-S, XJR and XKR-S GT
Unique version of Jaguar F-TYPE convertible sports car to be in action on Goodwood Hill
New short film previews Jaguar's presence at Festival of Speed
Jaguar pavilion will showcase current range of Jaguar performance cars and stunning installation by Royal College of Art students
Sir Chris Hoy, Kazunori Yamauchi and Andy Wallace to star in Jaguar driver line-up
Heritage heroes including XJR-9, XJ13, D-type and XK 120 to feature for Jaguar

IN DETAIL

(Whitley, Coventry, 08 July 2013). Jaguar will bring its illustrious past and exciting future together in dramatic fashion at Goodwood Festival of Speed (11-14 July 2013). In addition to entering some of the brand's most important heritage vehicles for the Goodwood Hill climb, Jaguar will also debut three new "R" vehicles − with a combined power output of 1650 PS − to the UK public and unveil an exciting new design study based on the Jaguar F-TYPE convertible sports car. All will be available to view up close in the Festival of Speed Supercar Paddock.

The brand new Jaguar XJR, powered by a supercharged, 550 PS, 5.0-litre V8 engine, will make its dynamic debut during the Goodwood Festival of Speed while the limited-edition Jaguar XKR-S GT, the most track-focused road-going Jaguar ever produced, will also be seen in action for the first time in the UK. Six-time Olympic Champion Sir Chris Hoy will drive the XKR-S GT on Friday 12 July in the Supercar Run, with famous Gran Turismo producer Kazunori Yamauchi driving the high performance newcomer the next day. The Jaguar XFR-S high performance saloon, which made its dynamic debut at the Goodwood press preview event in March, will make it first public appearance during the Festival.

One highlight of Jaguar's Goodwood plans will be the unveiling of an exciting design study. Based on the F-TYPE convertible sports car, Jaguar plans to unleash the unique vehicle on the Goodwood Hill with the company's Chief Engineer, Vehicle Integrity, Mike Cross behind the wheel.

Jaguar's selection of heritage cars will include a record-breaking Jaguar XK 120, which was once driven for seven days and seven nights at an average speed of more than 100mph in 1952 to set a new speed and endurance records with, amongst others, Sir Stirling Moss behind the wheel. An iconic Jaguar D-type (Chassis No.1 – a development and Le Mans reserve car) will also be on the Hill throughout the weekend, as will the Group C Jaguar XJR-9 which won Le Mans in 1988 in the hands of Andy Wallace, Jan Lammers and Johnny Dumfries. Wallace will once again pilot XJR-9 at Goodwood. The only Jaguar XJ13 in existence – a thunderous 5.0-litre V12 racer developed for Le Mans but never raced − will also take to the Goodwood Hill.

In addition to the hill climb activities, visitors to the Goodwood Festival of Speed will be able to view a range of new Jaguar vehicles in the brand's eye-catching, two-storey pavillion, including the XFR-S performance saloon; the new XJR flagship and the recently-launched XF Sportbrake. The new F-TYPE sports car will also be on show, as will an example of an F-TYPE chassis which allows visitors to examine the all-aluminium structure in its high-tech, lightweight glory. A stunning new art installation, inspired by Jaguar design, created by Royal College of Art students and unveiled during the recent Clerkenwell Design Week in London, will also be on display for the duration of the Goodwood Festival of Speed.
---
By Jeffrey N. Ross
---
See also: 2013 Jaguar XF 3.0 Supercharged, Autoblog Podcast #339, Jaguar releases C-X75 concept build story.