Is Jaguar's 3 Series-fighter the brand's last chance?
Wed, 16 Oct 2013 10:00:00 EST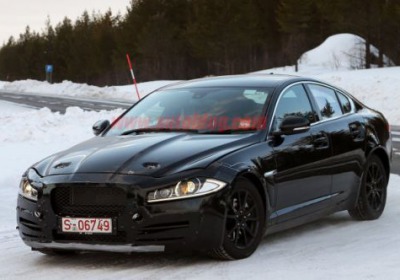 The upcoming line of compact 3 Series-fighters from Jaguar, often referred to as the Jaguar XS, could consist of a sedan, wagon and possibly a coupe and GT model (think BMW 5 Series GT). The car's all-aluminum architecture also will provide the basis for two new sports utility vehicles. Just how important is the much-touted "baby Jag" project to parent company Jaguar Land Rover? A JLR executive reportedly says the brand's survival is directly linked to the success of the XS, codenamed X760, Autocar reports.


The brand's survival is directly linked to the success of the XS.
"If the X760 fails, it will probably be the end for the [Jaguar] brand," the executive says. But Adrian Hallmark, Jaguar's global brand director, claims Jaguar will "build the most advanced, most efficient, most refined car in that [compact luxury sedan] segment. Not almost as good as, but better than the best in the world."

The X760 was developed as a large-scale project that would satisfy more than Jaguar's need for a new vehicle in the compact luxury sedan segment. The architecture also will spawn two new SUVs, a Jaguar and the Land Rover Evoque XL, which share the codename X761.

In addition to the new line of engines for the all-in effort, it's good to know that handling precision was a goal of JLR engineers, who chose to use a double wishbone setup for the front suspension. "We selected a suspension architecture that, whichever the classes of cars that we're even thinking about, we know we'll deliver an uncompromised product in that class," says Kevin Stride, a Jaguar vehicle line director.

And now come the numbers. If Jaguar could take five percent of the global market for compact premium cars, the automaker would sell 80,000 units. The Jaguar SUV would be sized to compete with the BMW X3 and X4, according to Autocar, and would add more volume. Analysts at Bernstein Research reportedly say the Jaguar SUV would add 50,000 units per year, for a total of 130,000 units using the new platform per year. They also say the Evoque XL would move about 80,000 units per year. As that JLR executive said before, a lot is banking on the success of the new Jaguar platform.
%Slideshow-19707%
---
By Damon Lowney
---
See also: 2014 Jaguar F-Type, Project 7 Concept snarl in Jay Leno's Garage, European automakers gear up for Brazilian production, European automakers gear up for Brazilian production.