Introducing the 1965 Ford Mustang
Sat, 24 Aug 2013 18:58:00 EST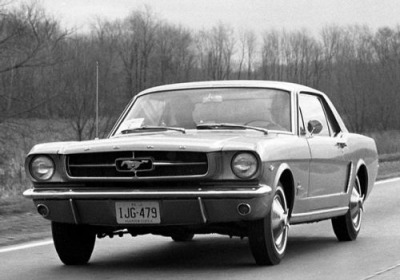 Put on your space suits and diving bell helmets, for it's time to step into a time capsule. The 50th anniversary of a historic model, like, say, the Porsche 911 this year, is certain to bring flights of nostalgia. This historical trip with the 1965 Mustang, though - preliminary hype for next year's anniversary, we know - is a swell museum exhibit for anyone who enjoys bygone days of the automobile.

Lee Iaccoca gave a speech to motoring journalists on April 1, 1964 at the New York World's Fair to introduce a sporty car for younger drivers. His opening line: "Good morning, ladies and gentlemen. Welcome to one of the proudest moments of our lives." The company was so excited by what it had made that the Mustang was Ford's first "International Press Introduction," being introduced to some 2,000 journos around the world on the same day in the US and 11 European cities. Even through its difficult points, no one at the time could have known how well the Mustang would acquit that pride.

After the intro, the press drove Mustangs 750 miles from New York to Dearborn, MI, reading press kits that touted features like the "vertical, three-sectional taillights/turn signals," "170" six-cylinder engine with 101 horsepower and the available Cruise-O-Matic transmission.

Ford has put Iaccoca's "remarks" from the "Mustang National News Conference" and the original press kit online, so grab a fountain soda and enjoy.
---
By Jonathon Ramsey
---
See also: Court puts kibosh on apartheid lawsuit against Ford, Daimler, Crowdsource funding push on to save historic Ford buildings, Ford cleans up painting process with cameras.