Infiniti releases first image of premium compact Q30 Concept
Tue, 27 Aug 2013 01:01:00 EST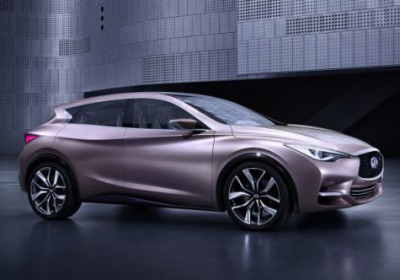 Behold, the Q30 Concept. Slated for a worldwide debut in Germany next month at the Frankfurt Motor Show, this concept previews a new entry-level premium compact that Infiniti hopes will attract younger buyers to the brand, as well as give it a competitor in a burgeoning new class that's quickly filling up with options.

What will set the Q30 apart? Aside from a bold and aggressive design that picks up where the new Q50 and many concepts have left off, Infiniti says the shape combines elements from three bodystyles, all of which appeal to the sort of buyer it's hoping snare. Can you guess which three? No peeking at the press release down below. Give yourself ten arbitrary points if your answer was coupe, crossover and hatchback.

Infiniti promises a ride height that will be high enough to earn crossover credentials, and we're guessing it's got an actual hatch back there, which leaves the coupe. Where's the coupe in the Q30's design? The influence of a two-door is a little more difficult to see with the naked eye, but what the Q30 shares with some four-door coupes on the market is a roofline that peaks and begins to slope back down before the B-pillar and rear set of doors.

There's no information available yet on what powers the Q30 Concept, and hence even less about what will power the production version, but we expect to learn more more in the coming weeks leading up to this triple threat's reveal in Frankfurt.

Infiniti releases first image of sleek, seductive Q30 Concept ahead of world premiere at Frankfurt Motor Show

• Design of Q30 Concept is a unique fusion of body styles merging of the dynamic design and sportiness of a coupe, the roominess of a hatch and the higher stance of a crossover
• World premiere in Frankfurt September 10 at 10:15 am CET

Hong Kong – Infiniti has provided a first look at the Q30 Concept which will have its world premiere at the 2013 Frankfurt Motor Show as the next step in Infiniti's foray into new premium segments.

The Infiniti Q30 Concept signals the contemporary design vision for a compact Infiniti vehicle which will target a new generation of premium customers. It is set to be unveiled at Infiniti's press conference, scheduled for 10:15 am CET on September 10 in Hall 5 at the Frankfurt Motor Show.

Q30 Concept embodies Infiniti's vision to deliver head-turning design, innovative materials with precise fit and finish and passionate craftsmanship, while provoking a radical shift in the premium compact segment.

The shape of the Infiniti Q30 Concept deliberately challenges categorisation – not a coupe, not a hatch and not a crossover but a fusion of the three body styles. It is designed for younger customers seeking an alternative to traditional premium compact vehicles and open to convention-challenging approaches.

Infiniti is confident this merging of the dynamic design and sportiness of a coupe, the roominess of a hatch and the higher stance of a crossover will resonate with these customers.

The Q30 Concept design language reflects the brand's vision to deliver new levels of design, materials, fit and finish, craftsmanship and performance. The Infiniti design team, led by Executive Design Director Alfonso Albaisa, has explored bolder, sensual sculpting and enhanced muscularity with the Q30 Concept as the brand's design language continues to evolve.

The Q30 Concept signals the next step in an aggressive strategy to extend the Infiniti brand into new premium segments.
---
By John Neff
---
See also: Infiniti Emerg-E Concept, Nissan looking to expand UK plant to build Infiniti Q30, Infiniti cribs new US boss from Porsche.