Infiniti hires Sebastian Vettel as Director of Performance
Wed, 27 Mar 2013 20:00:00 EST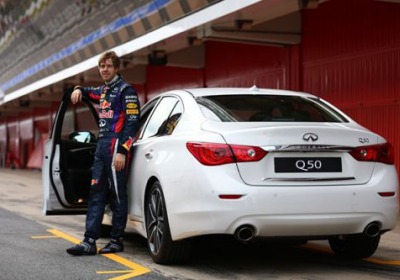 Remember when, during the Grand Prix of the Americas weekend last November, we told you that Sebastian Vettel had worked with Infiniti on the new G Coupe and that there'd be more of that kind of involvement on the way? It's been made official with the three-time Formula One World Champion being named Infiniti's Director of Performance.

Although the announcement is fresh, Vettel's time on the job isn't, Infiniti saying that Vettel went to Japan, the Nürburgring and the Circuit de Catalunya to assist in the development of the Q50 sedan.

When we spoke to Andreas Sigl, the man in charge of Infiniti's F1 collaboration with Red Bull, about the tie-up he had also said, "Like Mercedes has AMG and BMW has M – whether it's called IPL or not – we want to have something in that space." If the brand is still serious about that, Vettel's chops could help them deliver the kind of performance they'd need as upstarts to challenge the ringleaders of that particular hi-po circus.

We might find out soon enough if Vettel's s better at taking team orders from Infiniti than Red Bull. There's a press release below with the officially sanctioned paragraphs outlining his new role.

Three Time Formula One World Champion Sebastian Vettel Signs as Infiniti's Director of Performance

- Enhanced and extended Infiniti role for Vettel announced at the 2013 New York International Auto Show
- Vettel to play an increased role in developing new Infiniti models

New York – March 27th, 2013: On the opening day of the New York International Auto Show, Infiniti announced Sebastian Vettel, Infiniti Red Bull Racing driver and triple Formula One World Champion, as Director of Performance for the premium automotive brand.

This latest announcement extends and enhances Vettel's relationship with Infiniti which formally began in 2011. In this capacity, Vettel already has played a crucial role in developing Infiniti's vehicle line-up, starting with the exclusive Infiniti FX Vettel Edition and most recently with the all-new Infiniti Q50.

Making the announcement, Infiniti President Johan de Nysschen said: "Sebastian's talent and ability behind the wheel is unquestionable and his role in developing Infiniti vehicles has already proven invaluable. How many premium automotive brands can honestly say its vehicles have been developed alongside a triple World Champion? As our technical collaboration with Infiniti Red Bull Racing continues to deepen, so does our relationship with Sebastian who will be crucial to the development of our future vehicle line-up, ensuring Infiniti stands for passion and performance in a brand that challenges the status quo."

Vettel has been central to the development of the new Infiniti Q50 from its early stages. He spent time with Infiniti engineers in Japan, providing them with his world-class chassis dynamics, performance and handling feedback. He was then involved in testing early models alongside Infiniti Red Bull Racing Test and Reserve driver Sebastien Buemi in Japan, around the famed Nürburgring in Germany, and at the Formula One pre-season test at the Spanish Circuit de Catalunya in early March.

As Title and Vehicle Performance Partner of Infiniti Red Bull Racing from the start of the 2013 Formula One season, Infiniti has deepened its technical relationship with the Team. This announcement ensures that Vettel will become involved in the development of more future Infiniti vehicles.

"I am really happy to extend my relationship with Infiniti and become their Director of Performance" said Sebastian Vettel. "Helping to develop the Infiniti Q50 was a very different type of driving duty for me but I approached it in exactly the same way as I do my Formula One car. I am looking forward to working closely with Infiniti in developing more of their road cars into the future."
---
By Jonathon Ramsey
---
See also: 2014 Infiniti Q50 priced from $36,450*, Infiniti JX35 QX60 Hybrid confirmed for New York debut, Infiniti-Red Bull Racing will seek a fourth title with the RB9 [w/video].