Infiniti boss De Nysschen confirms next-gen Q60 Coupe, ponders high-performance variants
Tue, 22 Jan 2013 16:30:00 EST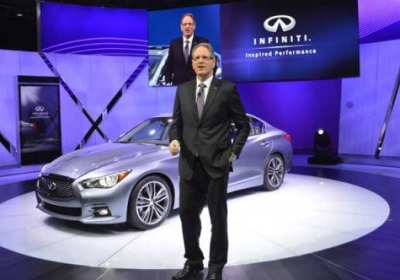 We've known since mid-December that Infiniti's new global model naming convention would turn the current-generation G37 Coupe into the Q60 Coupe starting next year, but we haven't been clear on whether the model-range-formerly-known-as-G would get a successor, especially as its volume has traditionally been a lot lower than its sedan counterpart.

Thankfully, Infiniti president Johann De Nysschen (above) has stepped up to confirm that the newly revealed Q50 sedan will receive a two-door counterpart, though perhaps not as quickly as some would like. According to an interview with Australia's CarAdvice.com, De Nysschen says "the coupe we can probably expect two-and-a-half to three years down the road." That news also suggests that if there's an eventual convertible version, that it's a long way off, too. Why so long? Infiniti has "a lot of priorities" – priorities that undoubtedly include an already-confirmed front-wheel-drive small hatchback/crossover.

The report also indicates that Infiniti has some aspirations for stretching its new Q50/Q60 range in a higher-performance direction to take on competitors like BMW and Audi, the latter being De Nysschen's former employer. There's far from a firm timetable offered, of course, with De Nysschen saying "someday in the future we will be able to offer more high performance versions [of Q50] than we have today... the dynamic capabilities of this platform are very significant. It can handle far higher power than the engines we are using at launch."

Infiniti has long envisioned itself as Japan's answer to BMW, and from where we sit, high-performance models would likely help keep the brand focused as it branches out into new segments like that of the JX, a three-row crossover with few sporting pretensions. In addition, its nascent Infiniti Performance Line [IPL] franchise could use the help – we've been underwhelmed with the pricy IPL G Coupe and Convertible to this point, and Infiniti will need to work harder if it truly wants to align its products with its growing Formula One marketing efforts.
---
By Chris Paukert
---
See also: Analyzing De Nyscchen's 25-year comeback plan for Infiniti, 2014 Infiniti Q50 debuts G-replacing design, new hybrid model, 2014 Infiniti Q50 hits the web early, courtesy of... Infiniti.