Impala crashes into Land Cruiser... to hide from a cheetah
Fri, 12 Jul 2013 14:29:00 EST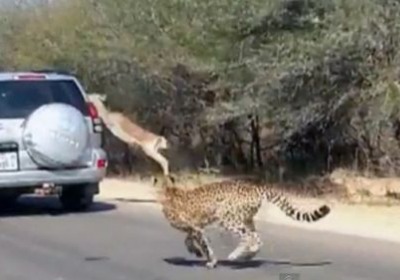 What would you do if a wild animal jumped into your vehicle through an open window during an African safari? What if said animal was an impala being chased by cheetahs? Though the scenario seems unbelievable, that's just what happened to a group of tourists in Kruger National Park in South Africa, and it was all caught on video.

With the tour groups stopped, a motorist with a video camera handy happens to catch the unlikely sight of a herd of impalas (not that kind of Impala) jumping over the tarmac while being followed, quickly of course, by two cheetahs. The feline predators thought they had cornered one impala and were closing in for the kill when it jumped through the open window of a Toyota Land Cruiser Prado – South Africa's version of the Lexus GX. Fortunately for the occupants of said vehicle, the cheetahs did not follow.

A short while later, one of the occupants in the Toyota fearlessly opens a door to let the poor animal out. It must have been its lucky day, because the cheetahs didn't take pursuit. Check out the circle life get interrupted by this traffic jam in the video below.



---
By Damon Lowney
---
See also: 2013 Toyota RAV4 earns 'poor' rating in IIHS small overlap crash test [w/video], Toyota Camry, Honda Civic inventories mounting as US automakers make inroads, This first-gen Toyota Celica is one mean mother.