Hyundai planning EV for US market
Mon, 10 Jun 2013 09:30:00 EST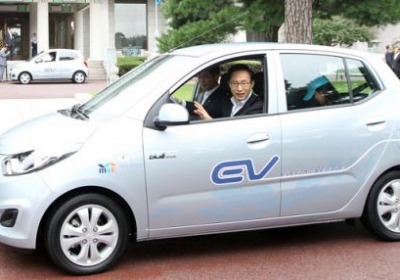 California's stringent automotive emissions mandates, which require that all automakers include some form of Zero-Emissions Vehicle (ZEV) in the lineup, may be forcing the hand of Hyundai, suggests The Detroit Bureau after a recent tweet from John Krafcik, HMA Chief Executive. Up until now, the Korean automaker has been attempting to meet future regulations with fuel-cell vehicles like the modified ix35/Tuscon models (the technology uses hydrogen to generate electricity), but consumers have been slow to warm to hydrogen citing an immature and undeveloped refueling infrastructure.

While battery-powered EVs are far from perfect, they appeal to consumers who have short commutes and owners who find it convenient to recharge at home. If Hyundai were to get into the EV game in short order, one solution could be the BlueOn battery car (shown above) that is sold in the automaker's domestic market. In its current state, the BlueOn offers a 16.4-kWh lithium polymer battery, which provides a range of just over 85 miles and a lethargic 0-60 time of 13.1 seconds.

To be competitive, Hyundai would have to boost performance or seek another more expensive solution. We'll have to wait for official word, or another tweet from Krafcik, to see which way the company is heading.
---
By Michael Harley
---
See also: Dodge, Hyundai crowdsourced-funding sites deemed successes, 2013 Hyundai Veloster Turbo: May 2013, 2013 Hyundai Elantra GT.