How that awesome Mustang R/C car chase vid was made
Tue, 06 Aug 2013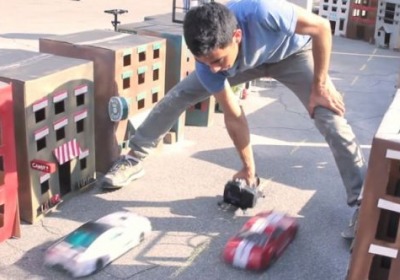 We've reported on a few R/C car chase videos in the past. One in particular that stands out as a favorite is Zach King's "The Cliché RC Action Chase." It featured a pair of Ford Mustang coupes racing through a cardboard city, plowing into outdoor patios and busting through construction zones. It was wonderfully creative and fun to watch, yet we know there was more to its creation than a bunch of guys fooling around with a camera one afternoon.

Turns out we were right, as evidenced by this video produced by Ford that takes us behind the scenes of Zach's creation. The young filmmaker explains why he chose the Mustang to star in his video, as well as how the cardboard sets were created, what equipment they used for shooting and what it was like when his video went viral. Ford found the young filmmaker and produced the followup as part of its Mustang Countdown video series, which will see a new video about the Mustang culture released every week until the original muscle car's anniversary on April 17, 2014.

Want to make an RC chase video of your own? Yeah, we do too. Watch the behind-the-scenes video below (you can refresh yourself on the mini feature film, too) before you get started.





---
By John Neff
---
See also: Ford adds third shift at F-150 plant to keep up with demand, Chris Harris pits Fiesta ST against Mercedes G63 AMG in 0-60 battle... sort of, Ford to pay $17.35 million over Escape recall.