Honda recalling 405K vehicles over airbag issue
Thu, 19 Sep 2013 09:58:00 EST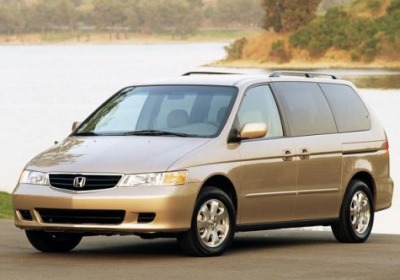 Honda is in hot water due to an airbag glitch that is causing it to recall 405,400 vehicles. According to the campaign, the supplemental restraints might fire for no apparent reason. 342,000 of the affected vehicles are 2003 and 2004 Odyssey minivans, which gels with a National Highway Traffic Safety Administration investigation we reported on in June.

Joining the Odyssey in the recall is the Acura MDX, with 63,400 units covered from the 2003 model year. Unlike the van, though, the MDX's recall covers Japan and Australia, in addition to the US and Canada. Both vehicles are suffering from an airbag control unit that is prone to malfunction when exposed to electrical noise, a condition that can cause the airbags to deploy without warning. Although no crashes have been reported in such scenarios, there have been some injuries typical of airbag deployment – abrasions and such.

Honda will be mailing recall notices to owners near the end of October, asking them to bring their vehicles into the dealership for installation of an electrical noise filter. The repair will take about an hour and be free of charge. Scroll down for the official announcement from Honda.

Statement by American Honda Regarding SRS Control Unit Recall: 2003-2004 Honda Odyssey; 2003 Acura MDX

09/18/2013 - TORRANCE, Calif.
Approximately 374,000 Honda and Acura vehicles affected in the United States
The SRS airbag system will be repaired, free of charge
No crashes have been reported related to this issue

American Honda will recall approximately 318,000 Honda Odyssey vehicles from the 2003-2004 model years and approximately 56,000 Acura MDX vehicles from the 2003 model year in the U.S. to address potential malfunctions of the Supplemental Restraint System (SRS) airbag system in these vehicles due to electrical interference. To prevent malfunction, an electrical noise filter will be installed adjacent to the SRS control unit, free of charge.

Honda has received a small but increasing number of complaints in recent months of inadvertent airbag deployment in these vehicles, which are equipped with SRS control units that contain computer chips similar to those used in airbag system control units installed in other manufacturers' vehicles that were recalled in the last year. No crashes have been reported to Honda related to this issue.

Honda is announcing this recall to encourage owners of all affected vehicles to take their vehicles to an authorized dealer as soon as they receive notification of this recall from Honda. Mailed notification to customers will be sent in late-Oct. 2013, and, at that time, owners of vehicles from the affected model years will be able to determine if their vehicles require repair by going on-line to www.recalls.honda.com and www.recalls.acura.com or by calling (800) 999-1009 for Honda owners or (800) 382-2238 for Acura owners, and selecting option 4.
---
By Brandon Turkus
---
See also: Acura launches NSX colorizer on Facebook, 2015 Honda Civic Type R to sire next-gen CR-Z?, Edmunds ranks the best used cars for 2013.