Honda issues bizarre non-recall on Odyssey over badge placement
Wed, 02 Oct 2013 16:30:00 EST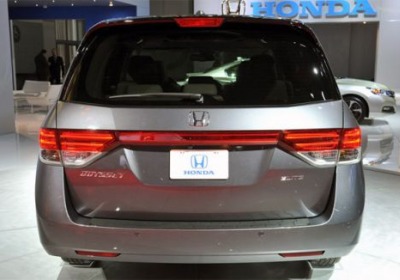 Without looking under the hood or at a vehicle history report, one of the easiest way to tell if a car has had body work done is to check the location and placement of the exterior badges. A crooked, misplaced or missing badge can be a telltale sign that there has been some sort of body or paint work. For this reason, Honda is suggesting that some owners of the 2014 Odyssey take their vans into the dealership for a little rebadging.

The topic was brought to light after Consumer Reports received a notice from Honda saying that the "Odyssey" badge on its test vehicle was incorrectly installed at the factory. The badge is supposed to go on the driver's side of the liftgate (as shown above), but the customer vehicles had it placed on the passenger side of the car. Not a huge deal unless an owner is trying to sell the vehicle and the improperly installed badge leads potential owners into believing the vehicle may have been damaged in some way. Here's what Honda said in its letter:

On some 2013 Odyssey vehicles, the Odyssey emblem was incorrectly installed on the passenger's side of the rear tailgate. The emblem should be installed on the drivers' side of the rear tailgate. American Honda Motor Company highly recommends that you participate in this Product Update. The placement of the emblem may indicate that the vehicle has had repairs performed that are consistent with it being in a crash. This could affect the resale value of the vehicle.

So, if you're the owner of a 2013 Honda Odyssey, perhaps it's time to go take a gander at your tailgate.
---
By Jeffrey N. Ross
---
See also: Honda previews next-gen JDM Odyssey minivan, Honda shines the spotlight on Project Drive-In success, Why Honda of America won't fit 2014 Fit models with start/stop.