Honda, Top Gear working on 130-mph lawn mower
Wed, 12 Jun 2013 17:45:00 EST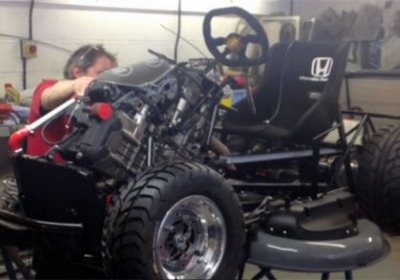 We're not even sure they've got a blade of Kentucky Bluegrass to cut, but the folks at Top Gear have gone ahead and started building what will become, if they're successful, the world's fastest lawn mower. Actually, it appears Top Gear is not doing much of the design and assembly work at all, instead having solicited help from experts at Honda and Team Dynamics, which oversees the automaker's touring car efforts.

What the three are working on is a riding lawnmower with a 110-hp engine that can reach 60 miles per hour in four seconds and trim turf at speeds up to 130 mph. If they succeed, such a maximum velocity would put them well ahead of the current record for the world's fastest lawnmower, which is 96.529 mph set by Bobby Cleveland and his Snapper race mower at the Bonneville Salt Flats in September of 2010. Top Gear hasn't said whether or not it will officially go after Cleveland's record, but the build will be featured in an upcoming issue of the Top Gear magazine and is scheduled to be completed by June 17, so we may learn what this maniacal mower's true purpose is then.

According to TG's report on how the build is going, as well as the video of it being fired up (literally) for the first time below, there aren't many actual mower parts left on this machine. What started out as a Honda HF2620 mower now sports wheels and tires from a racing quad, a back axle from a go-kart, a steering rack from a Morris Minor and a 1000cc engine from a Honda VTR1000F sport bike. All that remains from the original mower are the pedals and body panels; even the steel cutting deck has been replaced with a lighter fiberglass version. And blades? This mower will be bladeless, instead using two electric motors to spin lengths of brake cable like a weed whacker.



---
By John Neff
---
See also: Honda fielding 11 entrants at Pikes Peak, including 532-hp Odyssey, NHTSA investigating 550k Pontiac G6 models, 320k Honda Odysseys, Race Recap: 2013 Indianapolis 500 better than Bollywood; all the emotion, none of the music [spoilers].