Honda Gear concept explored at Montreal Auto Show
Fri, 18 Jan 2013 15:00:00 EST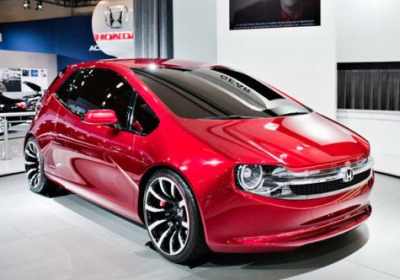 Our friends at Autoblog Canada have just come away with a closer look at Honda's surprise Gear Concept at the Montreal Auto Show. The little three-door hatchback is arguably the automaker's first real shot at the North American city car market (the Gear is much smaller than the Fit) and may be an indication that Honda is getting serious about going after Scion on this side of the world after the CR-Z hybrid failed to deliver. Honda says the Gear Concept takes its inspiration from the fixed-gear bicycle scene, and should allow buyers an unprecedented level of customization. Designers also wanted to show that a car can be both fun and practical.

We're all for a compact stylish three door with functional room inside, but given Honda's propensity for draining the personality from its concepts on the way to production (at least the ones that don't look showroom ready), we don't hold much hope for the Gear. You can check out the full press release below for more information.

Honda GEAR Concept Makes Global Debut at the Montreal International Auto Show

MONTREAL (January 17, 2012) – At today's Montreal International Auto Show, Honda Canada provided the world with its first look at the new GEAR Concept Study Model – a vehicle that demonstrates Honda's innovative approach to providing the automotive answer for young, urban, Gen-Y lifestyles.

Inspired by fixed-gear bicycles, GEAR is a concept that represents an entirely new way of looking at the sub-compact vehicle. It is simple and utilitarian, but also customizable, connected and full of personality.

"Subcompact cars are usually either utilitarian, but uninspiring or they're fun, zippy cars that are impractical and too expensive for the Gen-Y buyer," said Dave Marek, Design Director at Honda R&D Americas, Inc. "GEAR Concept tears down those walls – it's practical but fun, customizable, connected and affordable. Everything that young, discerning urban buyers would want in a car."
---
By Zach Bowman
---
See also: Honda recalling 748k Odyssey and Pilot models over airbag concern, Honda surprises with Gear concept in Montreal, Honda giving away free Civics in Forza Horizon to celebrate launch.