Honda Civic overtakes Toyota Corolla as America's best-selling compact
Mon, 04 Nov 2013 08:43:00 EST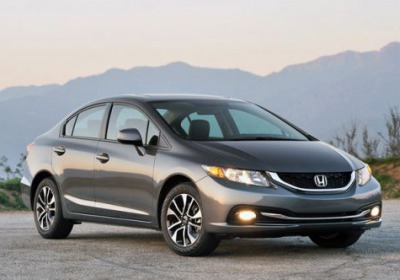 The battle to claim October's best-selling compact sedan title has been won by the Honda Civic. The Japanese four-door sold 27,328 units, leaving the Toyota Corolla - September's title holder - in its wake with 23,637 units sold. In terms of year-to-date sales, the Civic sits at 280,899 units, with the Corolla trailing at 257,184 vehicles.

Sitting in third place, separated by a significant gap from the leaders, is the Chevrolet Cruze with 16,087 units sold. The Ford Focus earned fourth, with 15,108 units moved out of showrooms. (It is interesting to note that while the Civic and Corolla have both enjoyed double-digit sales increases year-over-year, the Cruze and Focus have seen significant decreases during the same period.)

Sales of the Hyundai Elantra hit 14,876 units, putting it in fifth place, with the Volkswagen Jetta earning sixth place with 11,710 units. Rounding out the ten top sellers were the Nissan Sentra (8,399 units), Mazda3 (7,647 units), Dodge Dart (5,617 units) and Subaru Impreza/WRX (4,923 units). The Kia Forte (4,706 units) and Volkswagen Golf (2,249 units), eleventh and twelfth respectively, have fallen behind.

For complete US auto sales coverage, be sure to check out our By the Numbers articles, which we run at the end of every month.
---
By Michael Harley
---
See also: Honda recalls nearly 350k Odyssey minivans over unintended braking, Dubai claims debut of Toyota GT86 sedan concept, Honda launches new JDM Odyssey, Mugen chips in [w/video].