Honda CR-Z carbon-fiber prototype
Tue, 03 Dec 2013 12:01:00 EST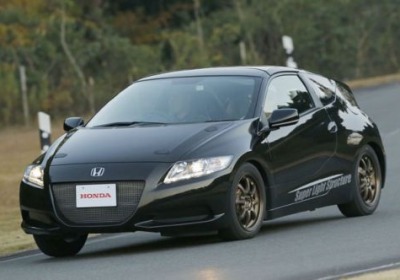 When Honda rolled out the CR-Z a few years ago, it hoped to bridge the gap between those who would save the planet and those who would rather burn all of its resources in a glorious cloud of tire smoke. But enthusiasts recalling the CRX of 1980s vintage balked, imploring Honda to ditch the heavy battery packs and electric motors in favor of a lighter-weight, more conventional powertrain. At this point it seems less likely that Honda would do so at one end of the market than Porsche would ditch the hybrid component of its 918 Spyder at the other. But that doesn't mean Honda isn't still cooking up ways to curb the CR-Z's weight. And it had just one such idea waiting for us when we visited its Japanese R&D center at Tochigi last week.

Nestled in between the JDM hatchbacks, powertrain test mules and new technology prototypes Honda rolled out for us sat the experimental CR-Z you see here. While it may look mostly like the hybrid sport-hatch you can pick up at your local dealer (albeit blacked out), nearly all of this prototype's bodywork has been completely replaced, as have its basic underpinnings, with carbon-fiber reinforced plastic. The exotic material is usually reserved for high-end exotics, but like BMW is democratizing its use in the new i3, so too is Honda researching ways to implement the use of carbon fiber on a mass scale. This one-of-a-kind CR-Z prototype stands, for the time being, as the embodiment of that effort.

Driving Notes
Ingress and egress in the carbon CR-Z is a bit more challenging than in the stock version. This prototype has been rebuilt on a carbon floor, with high sills and deeply bolstered buckets positioned down low. The door aperture is subsequently higher, prompting the R&D crew to fit a pair of butterfly hatches in the roof to allow those without the physique (or core strength) of a professional racing driver to get in and out without bumping their noggins. Once inside, the lower seating position – along with the visible carbon fiber all around – gives this prototype a feel more akin to a racecar than a mass-market hybrid hatchback.
As soon as you get moving (and before even getting used to shifting with your left hand – a first for this writer), the carbon CR-Z feels markedly quicker than stock. Honda insists the powertrain remained intact, which we'll take on faith. But the 30 percent faster 0-62 time they quoted us – now down to 8.3 seconds from 9.5 stock – strikes us as conservative. Just imagine this machine fitted with HPD's supercharger and the CR-Z's mild image would go right out the split rear window.
With at least 30 percent less weight and a lower seating position, the carbon CR-Z feels more sure-footed than a hybrid hatchback should. We say "at least" because while the CFRP chassis and bodywork helped Honda trim 30 percent off the stock CR-Z's sprung mass (now down to about 1,760 pounds), that weight reduction also enabled it in turn to lighten up the suspension, brakes and rolling stock. With a center of gravity closer to the ground, there's little body roll to be detected and the prototype grips with tenacity through the corners – evident even on the short handling circuit at Tochigi, around which we were permitted only two laps.
Of course with less heft to keep in check, the brakes also felt considerably stronger, grippier and all around more adept at shedding speed coming into the corner than you'd expect of the stock CR-Z. Given this prototype's scarcity, though, we were admittedly more hesitant to push it to its limits of adhesion.
Noise, vibration and harshness obviously suffered, as this is a research prototype not a production model – nor even intended to directly preview one, for that matter. The car creaked and pinged audibly the whole way, but we don't doubt that if Honda were to develop it for production, the final fit and finish would be up to the standards you'd expect from a major Japanese automaker.
We couldn't help but feel a little sorry for the R&D engineer who had to endure lap after lap of journalists (some less talented behind the wheel than this one, some undoubtedly more) flinging this prototype around the tight circuit. But when we left him and his one-off prototype (developed and built at untold expense), both were still in tact.
Although the cost of producing carbon-fiber is always dropping as production methods are improved and streamlined, we're still a long way off from seeing a $20,000 hatchback built out of the stuff. Of course if Honda were to put its buying power and production expertise behind it, we're sure it could get the price down to a more manageable level, but we still doubt that would go far enough and come soon enough to implement on something as mainstream as the next-generation CR-Z. And given the costs associated with repairing carbon bodywork and structures in the event of a crash, we're not sure mainstream buyers would want something so mass-market to be made out of the high-tech woven material, either. But if this prototype is anything to go on, it sure would be fun – for both tire-smoker and tree-hugger alike.
---
By Noah Joseph
---
See also: Honda to field this awesome Civic Tourer wagon in BTCC next season, 2015 Honda Civic Type R prototype, Honda motorcycles most stolen, just like Honda autos.