Honda CR-V spot delights with 'impossible' illusions
Thu, 24 Oct 2013 14:58:00 EST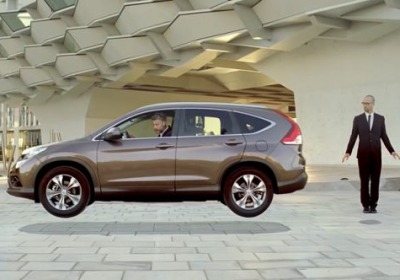 Mind-blowing car commercials that employ optical illusions and jaw-clenching stunts instead of computer animation are becoming the norm these days, and everybody from Volvo Trucks to Forza Motorsport 5/McLaren are regular contributors to the growing trend. Honda joins the crowd in its latest European commercial for the CR-V 1.6 i-DTEC Diesel, and uses well-placed props and well-drawn imagery to trick viewers into seeing the "impossible."

The old-fashioned optical illusion is alive and well in Honda's "An Impossible, Made Possible" spot, so go ahead and watch it and the making-of video below.





---
By Damon Lowney
---
See also: Honda settles class-action lawsuit over oil-burning V6s, Honda previews S660 roadster ahead of Tokyo debut, Andretti Autosport switches to Honda power.