Honda CB350 and cafe racer culture explored by Electric Federal
Sun, 20 Oct 2013 19:01:00 EST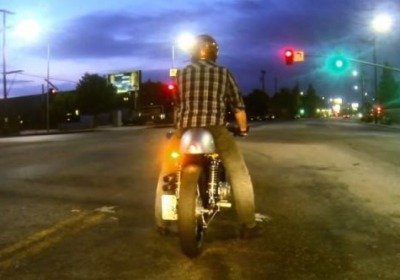 The latest video from Electric Federal covers one of our favorite aspects of motorcycle culture - café racers. In an interview with Adam "Gasser" Gaspic, the owner of Gasser Customs, EF takes a look at the culture and one of Gasser's latest offerings, a hopped-up Honda CB350, called the Silver Bullet.

Gasser has gone all-out on the Silver Bullet, replacing some of the body parts with fiberglass and delivering more than a few upgrades to the rebuilt engine. The brakes and suspension of the smaller bike also get some attention, as do some of the bike's aesthetics. Besides the upgrades, there's just something to be said for the sleek, minimalist nature of the little Honda.

Naturally, the videography is gorgeous, and it's a great look at a kind of motorcycling that seems to be overlooked in the world of sport bikes and Harley-Davidson-style cruisers. Take a look below for the full video.



---
By Brandon Turkus
---
See also: This is what Honda's new F1 engine will sound like, Finalists for 2014 Green Car of the Year announced, Honda, Audi sweep European tin-top championships.