General Lee takes on Bandit T/A in classic Hollywood car showdown [w/poll]
Fri, 26 Aug 2011 12:31:00 EST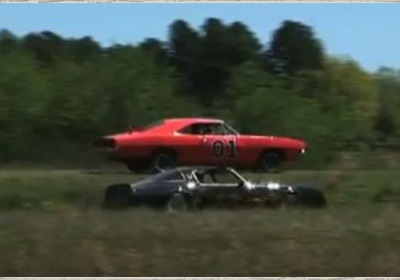 You don't have to be born in the 1960s or 1970s to be able to recognize the General Lee from The Dukes of Hazzard and the Pontiac Trans Am from Smokey and the Bandit. These old school four-wheeled stars seem to transcend demographics thanks to the miles of film that show the orange 1969 Dodge Charger and the jet-black 1977 Pontiac Trans Am performing seemingly impossible stunts.

The folks at Hot Rod magazine are obviously hip to this fact, and they put together a fun video in tribute of the instantly recognizable duo. Hit the jump to watch on as Sam Young and James Smith replace Bo Duke and The Bandit for a bit of dirt-road shenanigans in a pair of otherwise well cared for classics. We're not so sure we'd call it the best chase scene ever, but it sure looks like a lot of fun.

More importantly, which of these two cars would you rather own? Have your say in our poll below.


Which classic Hollywood car would you rather have?

| | |
| --- | --- |
| 1969 Dodge Charger from The Dukes of Hazzard | 4564 (56.7%) |
| 1977 Pontiac Trans Am from Smokey and the Bandit | 3484 (43.3%) |
---
By Chris Shunk
---
See also: 1939 Pontiac Ghost Car commands $308,000 at auction, Lutz dishes dirt on GM in latest Autoline Detroit, STUDY: Ford owns brand loyalty in 2009; Scorned Saturn, Pontiac buyers will look outside of GM.