GM-Isuzu joint venture assembles 1.5-millionth Duramax diesel
Wed, 21 Nov 2012 09:15:00 EST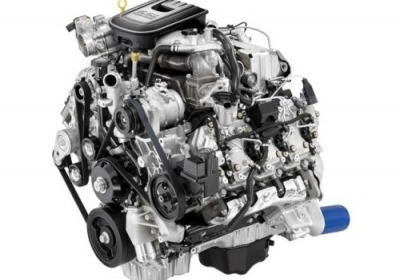 General Motors and Isuzu have officially stitched together 1.5 million Duramax 6.6-liter diesel engines. The joint venture between the two manufacturers started in 1998, and now the DMAX plant employs 517 workers in a 584,000 square-foot facility. GM introduced the Duramax turbo diesel engine to the US market for the 2001 model year, and it can be found trucks like the Chevrolet Silverado HD and GMC Sierra HD as well as the full-size Chevrolet Express and GMC Savana vans. In its current configuration, the engine yields 397 horsepower and 765 pound-feet of torque at just 1,600 rpm.

Of course, the big oil burner has plenty of tuning potential as well. As you may recall, a Duramax-powered truck recently set the land speed record for towing a vehicle at 142 miles per hour.

GM owns 60 percent of the joint venture, with Isuzu laying claim to the remaining 40 percent. The facility is located in Chicago. You can take a look at the brief press release below for more information on the milestone.

DMAX Builds 1,500,000th Duramax Diesel Engine

GM's segment-leading 6.6L powertrain achieves heavy-duty milestone

2012-11-16

MORAINE, Ohio – General Motors announced today the production of its 1,500,000th Duramax 6.6L diesel engine at its DMAX Ltd. Joint venture with Isuzu Motors Ltd.

DMAX Ltd, a joint venture between GM and Isuzu Motors Ltd., was established in 1998. GM introduced the Duramax diesel in the United States in its 2001 model year.

Available in GM's Chevrolet Silverado HD and GMC Sierra HD pickups, the engine delivers a segment-leading 397 horsepower at 3,000 rpm and 765 lb.-ft. of torque at 1,600 rpm. The Duramax is also available in GM's full-size Chevrolet Express and GMC Savana vans.

The award-winning Duramax 6.6-liter V-8 is a four-valve high pressure common rail direct injection diesel currently equipped with a diesel particulate filter to meet current stringent emissions requirements.

"Our Duramax diesel is one of the best in the industry," said Betty Wessel, DMAX Chief Financial Officer, "Duramax has become a great success story and is a world-class engine with superior quality, industry-leading horsepower and competitive fuel economy."

The milestone demonstrates the productivity of the employees and the joint partnership between GM, Isuzu and the IUE-CWA, said DMAX Chief Executive Officer Maho Mitsuya.

"This is a significant achievement for our facility and our employees here at DMAX," Mitsuya said. "We're committed to building quality into every engine – whether it's our first or our 1,500,000th.."

The 584,000 square foot DMAX facility employs 517 employees.
---
By Zach Bowman
---
See also: GM recalling 250,000 SUVs over door electronics.