GM China President says automaker could export vehicles from China to US
Sat, 20 Apr 2013 12:44:00 EST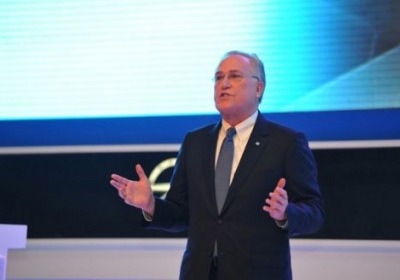 At a press conference on Saturday at the Shanghai Motor Show, General Motors announced plans to further expand its presence in the Chinese market. Among those commitments are plans to build four new plants by the end of 2015, giving the automaker the capacity to produce around five million vehicles a year in the country.

In order to make the most of that expansion, GM is adding 400 dealerships in China this year alone (for a total of 4,200 sales points), and it's eyeing 5,100 dealers by 2015. Yet not all of that production will stay in China – GM is planning to increase exports as well. Officials estimate the company will export somewhere between 100,000 and 130,000 Chinese-built vehicles this year – a record. And it's gunning for more.

Autoblog asked GM China president Bob Socia (above) if that means the company might eventually export new vehicles built in China to the United States, and he responded:

"It could very well happen. It could very well happen. You know, I'm not sharing any plans with you, but we try to keep open as to what makes sense. And Tim [Lee – GM's president of international operations] is the right guy to talk about your manufacturing footprint. If it make sense to tool up a vehicle in one location as opposed to two, from an economic perspective, Tim will say that's what we should be doing. We're open to be doing that. There's no reason why we can't be exporting to the States, and obviously the States are exporting here."
Given that the Pan-Asia Technical Automotive Center – GM and Chinese automaker SAIC's joint-venture vehicle engineering and design house – is expanding and increasingly calling the shots with Buick, the Tri-Shield brand is arguably the most likely way that Chinese-built vehicles might find their way to the US. GM has sold more Buicks in China than in the States for some time now, and PATAC has been responsible for a growing amount of work on the brand, from taking the lead on styling and engineering for the current LaCrosse to designing showcars like the just-revealed Riviera Concept shown below.

But are there such export plans in place at this time, we asked? "No."
---
By Chris Paukert
---
See also: Buick Riviera Concept hits the floor in Shanghai, Buick Riviera Concept debuts in China, GM warning 800,000 owners that their cars may need oil changes more frequently than they say.