Ford to build Explorer in Russia to meet demand [w/video]
Fri, 12 Apr 2013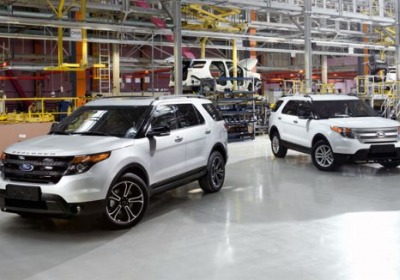 The current Ford Explorer is sold in more than 64 countries, and this three-row vehicle continues to grow in popularity worldwide. To keep up with demand, Ford began producing the Explorer at Ford Sollers Elabuga Assembly Plant in Tatarstan, Russia, a joint venture facility. This partnership will build Russian-market Explorers only, and production of export vehicles not destined for Russian buyers will continue to be built at Ford's assembly plant in Chicago.

Before this plant went online, Ford would ship Explorers to Russia (and other regions around the world) as partially assembled knock-down units where final assembly would eventually take place. While there is no indication as to how many Explorers Ford Sollers will build for Russia, Ford did add that exports of the SUV were up 65 percent last year (from 2011) accounting for more than 24,000 units.

Scroll down for a press release about the Russian Explorer as well as a video (bad music and all) showing the SUV being produced in Tatarstan.





Ford Explorer Production Goes International as Iconic SUV Rolls Off the Line in Russia

- Ford Sollers, Ford's joint venture in Russia, today launched the start of full production of the Ford Explorer, marking the first time the iconic SUV has been produced outside of the U.S.
- Explorer sales in the U.S. rose 33 percent in March. Ford exports Explorers from the U.S. to 64 countries around the globe
- The Russia-built Ford Explorers are being assembled in Ford Sollers Elabuga Assembly Plant in the Republic of Tatarstan for the Russian market

DEARBORN, Mich., April 11, 2013 – As demand for utility vehicles increases around the world, the Ford Explorer is being produced from the ground up outside of the United States for the first time in the iconic SUV's history.

The first full-production Explorer rolled off the assembly line today at Ford Sollers Elabuga Assembly Plant in the Republic of Tatarstan for the Russian market. Previously, only knock-down versions of Explorer had been built anywhere outside of the United States, including Elabuga, since 2012. Knock-down production means partially assembled vehicles are imported from the home plant – in this case, Ford's Explorer plant in Chicago – along with the parts needed to complete them, and then fully assembled at the local facility.

Explorer sales in the U.S. rose 33 percent in March, marking the best monthly sales since the current model debuted in 2010. Since the vehicle hit the market in 1990, Ford has sold nearly 7 million Explorers in the U.S., leading the way as America began a love affair with SUVs that continues with today's more refined and fuel-efficient models.

Now consumers worldwide are embracing Explorer. Last year exports of the SUV increased nearly 65 percent from 2011, to more than 24,000 vehicles. Explorer was shipped to 64 countries including Canada, Mexico and Saudi Arabia. In Russia, SUV sales accounted for 31 percent of the market in 2012, according to data from Russia's AUTOSTAT market-research agency. In February, Ford Sollers sold more than 400 Explorers, a record in Russia. Additionally, Explorer sales are scheduled to begin in China in the coming weeks.

"Russia is on its way to being the largest market in Europe and presents an enormous opportunity for growth," said Ted Cannis, president and CEO of Ford Sollers. "We anticipate SUV sales to continue to grow as Russian customers prefer the image and performance these utility vehicles provide in severe weather and challenging road conditions."

The Russia-made Explorers will be manufactured at the same high level of efficiency and to the same quality standards as those built at the Chicago Assembly plant.

"With our partner Sollers, we were able to take the best practices from Chicago Assembly Plant as well as our other SUV plants around the world, and combine them with our latest advances in the Ford Production System to ensure we achieved world-class quality and significantly reduced lead times of one to two years," said John Fleming, executive vice president, Global Manufacturing and Labor Affairs.

The Ford Production System (FPS) – which Ford starting rolling out in 2012 to its 65 plants worldwide – improves flexibility, process and quality, investment efficiency and capacity utilization. In Russia Ford was able to significantly reduce investment costs and accelerate tooling and equipment installations in the Elabuga plant by using existing tool designs from its global tool shops. The implementation team visited several Ford facilities around the world to learn best practices for employing the global FPS in the Ford Sollers plant.

As production at Elabuga ramps up, Ford Sollers plans to hire an additional 500 employees to supplement the plant's existing 1,500 employees. Chicago Assembly Plant will continue to produce Explorers for the U.S. and more than 60 other countries around the world.

About Ford Motor Company

Ford Motor Company, a global automotive industry leader based in Dearborn, Mich., manufactures or distributes automobiles across six continents. With about 171,000 employees and 65 plants worldwide, the company's automotive brands include Ford and Lincoln. The company provides financial services through Ford Motor Credit Company. For more information regarding Ford and its products worldwide, please visit http://corporate.ford.com.
---
By Jeffrey N. Ross
---
See also: Ford confirms 1.5-liter EcoBoost four-cylinder engine for 2014 Fusion, Ex-GM VP LaNeve takes over Lincoln ad agency, Toyota again claims Corolla outsold Focus worldwide.