Ford reveals concept trucks that ultimately became Atlas
Wed, 03 Apr 2013 19:50:00 EST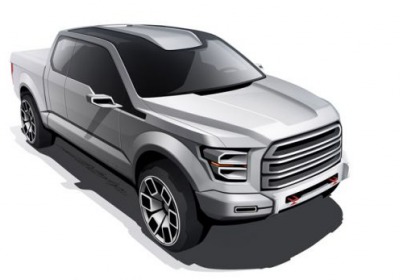 The Ford Atlas Concept was one of the quiet success stories of the 2013 Detroit Auto Show, and now Ford has given us a quick glimpse as to how that creation came to be. Designers actually combined two early sketches to build the Atlas. One, called the Bullet Train, is a futuristic, aerodynamic creation, while the other, aptly named the Locomotive, features the squared off proportions we're familiar with.

Once designers settled on the truck's proportions, they began nailing down exactly which attributes they wanted the final design to have. The Concept's notched windshield originated as a forked glass roof that seamlessly transitioned into the windscreen.

Likewise, designers wanted to fit the truck's tailgate with a storage compartment for tools and a first aid kit, but settled on the dual-purpose step/cargo cradle. Interestingly enough, the concept's active aero shutter wheels actually originated in some of the earliest sketches. Check out the photos and slides here for a closer look.
---
By Zach Bowman
---
See also: Autoblog Podcast #327, Ford to show special edition Raptor on April 9, 2013 Ford Fusion Hybrid.