Ford adds third shift at F-150 plant to keep up with demand
Tue, 06 Aug 2013 10:31:00 EST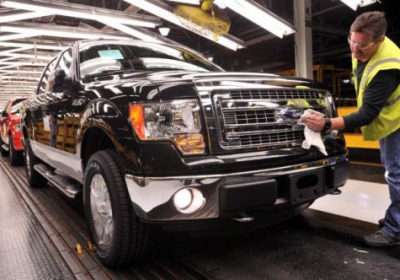 The signs have been very positive for Ford's F-Series line of pickup trucks as of late, and after 24 consecutive months of increasing sales of the best-selling F-150, the automaker has added a third production crew at its Kansas City Assembly Plant that includes 900 new hourly workers to meet demand for the truck. This the first step in Ford's plan to add 2,000 hourly jobs at the plant to help meet demand for its trucks and to begin production of the new Transit van, the automaker says.

Despite some tough new competition, sales of the F-Series are the strongest they've been since 2006, according to Ford. The automaker sold 60,449 F-Series in July, the best sales figure for the mid-summer month since 2006, which also represents a 23 percent increase compared to July 2012. From January to July 2013, sales were up 22 percent compared to the same period last year.

Ford has committed to creating 12,000 hourly jobs by 2015, and with the 900 new employees added to the assembly plant in Missouri, the company says it has completed 75 percent of its goal. Ford has also invested $1.1 billion to retool and expand the Kansas City Assembly Plant to ready it for Transit production. Take a look at the press release below for more job and F-Series sales information.

Third Production Crew with 900 New U.S. Jobs Begins to Meet Surging Ford F-Series Demand

- Ford's Kansas City Assembly Plant today launches a third crew that adds 900 new jobs to meet surging customer demand for Ford F-Series, part of the 200,000 units of added annual straight-time capacity Ford plans for 2013

- Through July, Ford F-Series sales 50 percent higher than the second-best-selling vehicle in America

- With the additional crew at Kansas City Assembly Plant, Ford has reached 75 percent of its goal to create 12,000 hourly jobs in the United States by 2015

- Ford has added 2,335 hourly jobs and 1,500 salary jobs in the United States this year alone

KANSAS CITY, Mo., Aug. 5, 2013 – Ford, America's truck leader, today welcomes a third crew of 900 new hourly workers at its Kansas City Assembly Plant to meet surging customer demand for the Ford F-150.

Ford F-150 is part of the Ford F-Series lineup, the nation's No. 1-selling vehicle for 31 years and the best-selling truck for 36 years.

"Ford F-Series sales are the strongest since 2006, and we are increasing production to meet this demand." said Doug Scott, Ford Truck Group Marketing Manager. "This is an important indicator that our economy is growing again. We are proud that Ford Trucks are helping more and more of our customers get back to work."

The additional production crew is Ford's first step in bringing more than 2,000 jobs to Kansas City Assembly Plant to meet growing truck demand and to launch production of the all-new Ford Transit van early next year.

Over the past year, Ford announced it will increase capacity by 600,000 units in North America to meet surging demand for its cars, trucks and utilities.

F-Series demand
Customer demand for Ford F-Series continues to strengthen:

- F-Series sales increased 22 percent from January to July 2013, compared to the same period last year

- F-Series sales were at 60,449 in July, representing the best July sales month since 2006 and a 23 percent increase over 2012

- Based on July U.S. sales results, F-Series sales now have increased for 24 consecutive months

The Built Ford Tough F-150 delivers the segment's best combination of power, capability, safety and fuel economy. F-150 leads in a variety of fields, including:

- 68 percent market share in hazardous materials work
- 67 percent share in the oil pipeline industry
- 62 percent share in road and highway maintenance

"Whether it's construction, farming, energy or law enforcement, Ford trucks keep America working," said Scott.

Going further
The additional jobs at Kansas City Assembly Plant come as Ford continues to retool and expand the facility through a $1.1 billion investment to ready for Transit production. Kansas City Assembly Plant has more than 250 suppliers nationally and more than 10 suppliers locally that will benefit from the addition of a third crew. When Transit production begins, close to 275 suppliers nationally and six suppliers locally will grow their business.

"Missouri's resurgent auto industry continues to drive economic growth and create good jobs for Missouri families in Kansas City and across the state," Missouri Governor Jay Nixon said. "I applaud Ford for their historic investment in this region and congratulate the hundreds of additional autoworkers going to work building America's most popular pickup right here in the Show-Me State."


---
By Damon Lowney
---
See also: Chris Harris pits Fiesta ST against Mercedes G63 AMG in 0-60 battle... sort of, Ford to pay $17.35 million over Escape recall, Ford Focus ST, Fiesta ST buyers to get free Octane Academy driving school.