Ford Mustang Shelby GT500 has a bit of a dyno issue
Tue, 28 May 2013 12:44:00 EST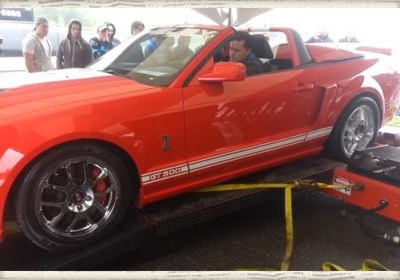 We're of the mind that each and every dyno should come with Murphy's Law painted in big, visible letters down the side. For every ten successful dyno runs out there, it seems there's one where events go horribly wrong. Take, for example, the video below. The clip shows what happens when a Ford Shelby GT500 and a mobile dyno have a bit of a disagreement at the Performance Expo 24 in Sherbrooke, Quebec. We won't spoil the results for you, but we will say there's some substantial carnage involved.

It's unclear just how much damage ensues from the dust up or whether anyone was harmed in the incident, but from the looks of things, everyone made it out without serious injury. If only we could say the same for the machines involved. Check out the video below.



---
By Zach Bowman
---
See also: Daimler consulting with Ford about 3-cylinder engines, Automakers donating money, vehicles and supplies to Oklahoma tornado relief effort, Ford to cease Australian automaking operations after 90 years.