Ford Fiesta ST orders off to strong start
Fri, 17 May 2013 17:46:00 EST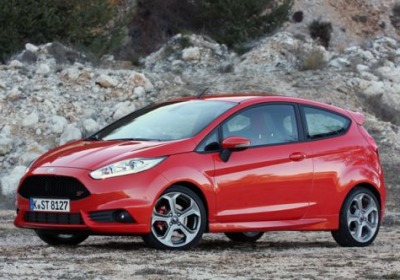 We at Autoblog love the new little Ford Fiesta ST, and apparently, folks in Europe are pretty impressed with it, as well. According to Ford, the automaker's European arm has already logged 3,000 orders for the new hot hatch since it hit dealerships this March. The US-spec car, which will only be available as a five-door, will go on sale in the United States this summer.

What's perhaps most interesting about the Fiesta ST ordering is that the majority of customers appear to be ordering high-spec cars. According to Ford data, 60 percent of customers have opted for the leather interior with Recaro buckets, and 90 percent have selected the upgraded 17-inch wheels (seen on our test car, above). Spirit Blue has been the most popular color, commanding 27 percent of all orders. As for the technology upgrades, 19 percent of customers have ponied up for the Sony stereo with navigation.

To recap, the Fiesta ST is offered with Ford's 1.6-liter EcoBoost four-cylinder engine, putting out 179 horsepower and 177 pound-feet of torque, mated exclusively to a six-speed manual transmission. We had an absolute blast flinging the hot Fiesta through the French Alps, and we can't wait for this sharp little hatch to make its way over to the States.

Ford has already announced US pricing for the Fiesta ST, which starts at $22,195 (including $795 for destination). Load one up with Recaros, navigation, a sunroof and more, and you'll just crest the $26,500 mark.

Scroll down for Ford's full release about European orders.

Hot Hatch, Hot Sales: New Ford Fiesta ST Sets Seriously Rapid Pace in First Few Months on Sale

- Ford receives 3,000 orders for the new Fiesta ST from across Europe since reaching dealerships in March; U.K., Germany and Switzerland lead the way

- Fastest production Fiesta can is capable of 0-100 km/h in 6.9 seconds and 220 km/h top speed with 20 per cent better fuel economy than previous Fiesta ST

- High-specification interior and exterior styling and technology options are a hit with new Fiesta ST customers; Spirit Blue is most popular colour

COLOGNE, Germany, May 17, 2013 – The Ford Fiesta ST – Ford's fastest ever production small car – is off to fast start with hot-hatch connoisseurs placing 3,000 orders since March.

Customers in the U.K. have bought more than half of all models sold to date, with Germany placing the next largest number of orders, followed by Switzerland.

The new 182 PS Fiesta ST can achieve 0-100 km/h in 6.9 seconds and a top speed of 220 km/h – supported by an advanced chassis developed by Ford Team RS, the European arm of Ford Motor Company's Global Performance Vehicle group.

It also offers both a 20 per cent increase in power against the previous, first-generation, model and a 20 per cent reduction in CO2 emissions to 138 g/km*.

"The word of mouth on Fiesta ST has been phenomenal and it's clear we have something special on our hands," said Roelant de Waard, vice president, Marketing, Sales and Service, Ford of Europe. "We are really proud of our product development team for delivering a car that the top auto critics across Europe say not only is astonishingly good but also very affordable."

The Ford vehicle dynamics department that developed the new Fiesta ST last month was named the Dynamics Team of the Year at the 2013 Vehicle Dynamics International Awards, and Ford Team RS vehicle dynamics specialist David Put won the title of Dynamicist of the Year.

Powered by Ford's 1.6-litre EcoBoost engine, the new Fiesta ST offers performance-tuned steering, suspension, brakes and enhanced Torque Vectoring Control; as well as Ford MyKey and SYNC with Emergency Assistance. (A video of David Put driving the Fiesta ST at Ford's Lommel test track can be viewed here)

The dynamically styled new Fiesta ST exterior with a large trapezoidal honeycomb grille, dramatic rear diffuser element and a full ST body kit is proving most popular in new colour Spirit Blue, requested in 27 per cent of orders, followed by Frozen White and Race Red.

More than 60 per cent of customers have opted for a Smoke Storm Torino leather interior in Charcoal Black, to complement the carbon fibre dashboard inserts, alloy-metal pedals and gearshifter, ST steering wheel and Recaro seats. 90 per cent of customers have specified Rado Grey 17-inch alloy wheels with red brake callipers; and a further 19 per cent have selected the Sony DAB radio and navigation option with 5-inch colour screen.

"Our showroom cars are getting a huge amount of attention, with people wanting to sit in and experience the Fiesta ST and talk about its performance," said John Leeman, operations director, Ford Retail, the UK's largest Ford Dealer Group. "We are receiving a large number of inquiries every day."

The success of the new Fiesta ST follows on the heels of the Focus ST, which went on sale in summer 2012. Equipped with a 250 PS 2.0-litre EcoBoost engine, the Focus ST was the best-selling hot hatch in Europe during the first three months of 2013, with 2,100 sales.
---
By Steven J. Ewing
---
See also: 2014 Ford Mustang GT, Project Ugly Horse: Part VIII, Ford sued over alleged 3.5-liter EcoBoost defects.