Ford Fiesta ST GRC Racecar is hungry for podiums in 2013
Thu, 07 Feb 2013 18:29:00 EST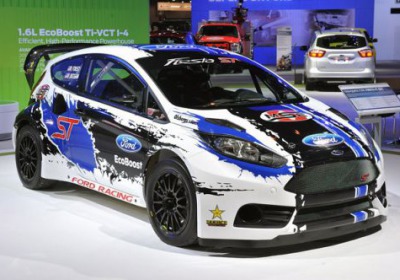 As we reported earlier, the Chicago showing of this plucky Ford Fiesta ST GRC racer points to bigger and brighter days for Global RallyCross. For the upcoming season, you can expect to see Ken Block and Tanner Foust both driving the Ford racecar, and if last season's results are any indication, you can anticipate quite a few podium appearances, as well.

The Fiesta seen here was built by the Swedes at OlsbergsMSE, and will be driven in anger by Foust in 2013. Modifications are, as you'd expect, extensive, and include an engine, exhaust and braking upgrades, a racing style short-throw shifter and a limited-slip differential. As you can see, the car has been fully stripped out and caged for maximum speed and safety, too.

Refresh your memories with the details of the car, in the press releases below. And if you head out to the Chicago Auto Show this year, don't forget to drop by the Ford stand to have a look.

- Ford Racing to introduce new OlsbergsMSE-built Fiesta ST Global RallyCross Championship (GRC) race car based off the new Ford Fiesta ST production car, which goes on sale this summer

- The OlsbergsMSE Fiesta ST GRC cars will be driven by Tanner Foust and Brian Deegan

- Ford Racing and OlsbergsMSE sign a multiyear manufacturer partnership to build on their back-to-back Global RallyCross Championships and multiple X Games medals

- Ford driver and 2012 X Games silver medalist Ken Block will also compete in the 2013 Global RallyCross Championship and will introduce his new Fiesta ST GRC car later this year

- The OlsbergsMSE Fiesta ST GRC race car will be on display Thursday and Friday at the Chicago Auto Show

- Ford announced as sole automotive sponsor for the 2013 summer X Games with RallyCross events at all four global events

DEARBORN, Mich., Feb. 6, 2013 – In many ways the 2014 Ford Fiesta ST is a race car built for the street; Global RallyCross Championship (GRC) fans will soon get an up-close view of the same car built exclusively for competition at the Chicago Auto Show.

With Ford's global launch of Fiesta ST under way, Ford Racing will introduce the ST performance badge in the 2013 season of the Global RallyCross Championship and Global X Games events.

The move is part of an expanded Global RallyCross program for Ford as it capitalizes on the growing popularity of the series and its increased visibility through X Games and some larger-than-life personalities, including Tanner Foust, Brian Deegan and Ken Block.

The first Fiesta ST GRC cars will debut this season with Block, Deegan and two-time Global RallyCross champion Foust. Foust and Deegan will give performance car enthusiasts and media the first look at the OlsbergsMSE Fiesta ST GRC race car this week at the Chicago Auto Show.

"Global RallyCross has been a great series for us to demonstrate what Ford's small performance cars can do," said Jamie Allison, director, Ford Racing. "With great drivers and teams, and now a formal manufacturer partnership with OlsbergsMSE, Ford Racing's commitment to Global RallyCross is quickly growing. We're excited about the debut of the Fiesta ST GRC car this year, and it will be fantastic to see Ford's global performance car compete in four countries around the world this season."

To support development of the RallyCross Fiesta ST program, Ford Racing has formalized its manufacturer partnership with OlsbergsMSE, whose credentials include two consecutive GRC driver championships with Foust, and podium finishes at all six rounds in 2012. The team has helped Ford earn GRC manufacturer's championships in 2011 and 2012.

OlsbergsMSE will field the Fiesta STs for Foust and Deegan.

"OlsbergsMSE has a good history developing extreme/RallyCross cars, and with the longer-term manufacturer relationship with Ford and its technical support, together we will develop even stronger RallyCross cars," said Andreas Eriksson, OlsbergsMSE team principal. "The partnership is exactly what OlsbergsMSE needs to continue to be a winning team in the coming years.

"There are great teams and manufacturers coming to the series and the sport," Eriksson continued. "We will have better and tougher competition, and I look forward to the challenge of staying persistent in the development of our cars.

"Outside of our technical development, we will also be very focused on providing our drivers with the information and input they need to be the best," Eriksson added. "This is the way our entire OlsbergsMSE program moves forward, together with Ford. To be the best in this extreme sport, hard work and dedication is required from drivers and team."

Joining Foust and Deegan to round out Ford's GRC program is Block and the Hoonigan Racing Division. Block's strong 2012 Global RallyCross season was highlighted by a silver medal at X Games 18 behind World Rally Champion Sebastien Loeb, and he posted top two qualifying positions in each of the series' last four rounds.

"I'm stoked to be able to say I'm going to be continuing to race Fords in Global RallyCross for the next few years, especially with the four X Games events this summer," said Block. "For the upcoming 2013 season, my team is taking everything we learned during my rookie season last year and applying it to an all-new RallyCross car. It's going to be a fun season."

The Global RallyCross Championship will have a true global presence in 2013. In addition to five expected North American events, there will be four X Games in 2013 with RallyCross competition. Ford is sole automotive sponsor for all four 2013 summer global X Games, which will include the traditional event in Los Angeles and new venues in Brazil, Spain and Germany.

"Global RallyCross and X Games allow us to connect with the next generation of Ford customers and a very important group of performance enthusiasts," said Allison. "They already know Ford for great products like Mustang and Raptor, but are becoming a real force helping drive the growing B- and C-car performance segments."

Fiesta success in 2012 Global RallyCross Championship

- 1-2 finish at Charlotte Motor Speedway with Marcus Gronholm and Foust

- Sweep at Texas Motor Speedway with Gronholm, Foust and Deegan

- Silver and bronze at X Games with Block and Deegan

- Third-place podium finish at New Hampshire Motor Speedway with Deegan

- 1-2 finish at Las Vegas Motor Speedway with Foust and Deegan

- 1-2 finish at SEMA in Las Vegas with Foust and Deegan

- Foust clinched second-consecutive GRC Championship, followed by Deegan Ford clinched second-consecutive GRC manufacturer's championship with four first-place finishes and 12 podium appearances

About Fiesta ST

Fiesta ST is the result of the combined efforts of Team RS in Europe and SVT in the United States. Fiesta ST may be born with racing DNA, but buyers won't have to pay for that performance at the pump. Available exclusively as a five-door hatchback in North America and with a six-speed manual transmission, Fiesta ST is projected to achieve up to 34 mpg. A new high-output variant of the award-winning 1.6-liter EcoBoost® four-cylinder engine propels Fiesta ST with an estimated 197 horsepower and 214 lb.-ft. of torque. This compact performance machine sports a unique grille and chin spoiler with new rear diffuser and fascia extensions. Bright tipped dual-exhaust pipes and high-mount spoiler along with unique 17-inch wheels complete the visual package: Fiesta ST looks like it's made for the racetrack.

About Ford Motor Company

Ford Motor Company, a global automotive industry leader based in Dearborn, Mich., manufactures or distributes automobiles across six continents. With about 171,000 employees and 65 plants worldwide, the company's automotive brands include Ford and Lincoln. The company provides financial services through Ford Motor Credit Company. For more information regarding Ford and its products worldwide, please visit http://corporate.ford.com.

============================================================

Fifteen52 and Project ST Announce CAS Debut for Project Focus TrackSTer

LOS ANGELES, Feb. 6, 2013 – Los Angeles-based automotive tuner fifteen52, via Project ST, will use the 2013 Chicago Auto Show to debut its Focus TrackSTer project build.

One of three different Focus ST builds, the TrackSTer is to be the first debut for the Project ST campaign. Project ST is a relationship between fifteen52, Ken Block and Ford. The project goal is to make today's hot hatch king – the Ford Focus ST – even hotter.

fifteen52 is excited to bring the Focus TrackSTer to the Chicago Auto Show.

"Using the CAS venue to debut the TrackSTer is bound to be one of the main highlights for the Project ST campaign," said Brad Beardow, fifteen52 co-owner. "Chicago, if not the entire Midwest, seems to have more than its fair share of hot-hatch enthusiasts, and there's just something so right about coming to CAS – in the dead of winter – and unveiling the hottest Focus ST anyone's seen so far."

Since fifteen52 launched Project ST in the late summer of 2012, interest in the campaign has grown tremendously. Regular updates via the project-st.com website have captivated an ever larger group of enthusiasts, and as each of the three cars nears completion, fans throughout the country can look forward to seeing them in person as fifteen52 plans to bring the cars to a variety of 2013 events.

TrackSTer is a Focus ST that is destined to feel just as at home on a road course as on the way to a road course. Using only top-quality engine, transmission and suspension components, TrackSTer is designed to appeal to the hardcore performance enthusiast.

Inspired by Ford's rich global history of small performance cars, fifteen52 has worked closely with Ford Racing to build a Focus ST that pays homage to such cars of the past, while also demonstrating just how far today's Ford performance envelope can be pushed.

Said Project ST partner Ken Block, "Teaming up with fifteen52 for this project was an obvious choice for me. They've got a great understanding of what's hot in the small car performance marketplace right now, both from the style perspective and from the performance end of things. With the TrackSTer, they've worked closely with both Ford Racing and Mountune to put together a potent package that blends on-road performance with on-track performance. I can't wait to actually get this car out on a track and put it through the paces."

fifteen52 has incorporated the best of the best in constructing the TrackSTer, and trips to the Ford Racing performance well have been numerous, to say the least. A partial list of incorporated parts that will soon be available to all Focus ST enthusiasts includes:
Ford Racing short-throw shifter
Ford Racing performance exhaust system

In addition to Ford Racing Performance Parts, components and partners from Ford Racing's Focus race programs globally have lent their expertise, including:

- Mountune engine build (using forged rods and pistons)

- Mountune performance intercooler

- Mountune upgraded ECU

- Quaife limited-slip differential (developed for Focus ST-R)

- Centerforce custom clutch kit (developed for Focus ST-R)

- Four-piston front caliper front brakes (developed by StopTech for Focus ST-R)

- Fender flares from Chinese Touring Car Championship Focus

- With such a vast array of race-tested quality performance parts at its disposal, along with access to Ford Racing data, expertise and global strategic relationships, fifteen52 believes it has built what is possibly the ultimate all-around Focus ST with the TrackSTer.

About fifteen52

fifteen52 was founded in 1996. Originally known for bringing high-end Euro accessories to the US VW/Audi market, they quickly branched out into the high performance world as well. Builder of many high-profile project cars such as the VWvortex.com chronicled Project X Mk4 Jetta coupe series, fifteen52 has consistently been on the cutting edge of the Euro aftermarket scene. In the late 2000s fifteen52 began manufacturing their own line of wheels, with their most famous model, the Tarmac, making its way onto Ken Block's HFHV Gymkhana FOUR and FIVE 650-hp Fiestas. By recently teaming up with Ford Racing and Ken Block for Project ST, fifteen52 is set to expand its reach even further into the automotive aftermarket scene. To learn more about these projects, and follow their progress, check out www.fifteen52projectST.com.
---
By Seyth Miersma
---
See also: Ford reveals Fiesta ST race car, points at road ahead for bigger things in Global RallyCross, Consumer Reports criticizes small turbo engines for misleading performance, fuel economy claims [w/video], Submit your questions for Autoblog Podcast #319 LIVE!.