Five vehicles named Top Safety Pick+ including new Civic, MKZ
Fri, 08 Mar 2013 17:44:00 EST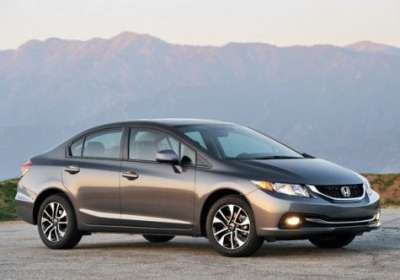 In an attempt to help push vehicle safety to a higher level, the Insurance Institute for Highway Safety created a stricter Top Safety Pick+ rating last year, which incorporates a brutal small overlap test and requires cars to get Good ratings in four out of the five categories (and no less than Acceptable in the fifth). Joining the list of the safest cars of 2013, the 2013 Volvo XC60, Lincoln MKZ, Honda Civic (sedan and coupe) and the 2014 Mazda6 have all received the coveted TSP+ rating.

The Mazda6 and Lincoln MKZ have both been completely redesigned, and both received Acceptable ratings in the small overlap test. The Honda Civic, coming off its emergency refresh for 2013, is the first small car to be subjected to the small overlap test, and IIHS says that one of the car's many upgrades includes a stiffer front structure allowing it to receive Good ratings in all categories. Similarly, the XC60 gets all Good ratings thanks to, according to IIHS, Volvo updating the airbag software allowing the side airbags to inflate during the small overlap test.

The 2014 Subaru Forester has not yet been subjected to the small overlap test, so it must make do with just a Top Safety Pick rating until the IIHS tests small utility vehicles, which is expected to happen later in the spring.

Five vehicles earn IIHS Top Safety Pick+ award

Five vehicles earn the Institute's top safety award based on their performance in the new small overlap front crash test.

The Honda Civic 2-door and 4-door, both small cars, and the Volvo XC60, a midsize luxury SUV, all earned good ratings for small overlap protection. The Lincoln MKZ, a midsize luxury car, and the Mazda 6, a midsize moderately priced car, both received an acceptable rating. All are 2013 models except the Mazda 6, which is redesigned for 2014.

The vehicles earned the Top Safety Pick+ award because they received good ratings in the Institute's moderate overlap front, side, rollover and rear tests, plus good or acceptable ratings in the new small overlap test. The small overlap test is designed to replicate what happens when the front corner of a vehicle collides with another vehicle or object like a tree or utility pole.

The Honda Civic, the first small car to earn the Top Safety Pick+ award, received significant front structure upgrades to improve small overlap performance, and engineers at Volvo updated the airbag algorithm to deploy the side curtain airbag in the small overlap test.
---
By Jeffrey N. Ross
---
See also: Volvos will brake for bicyclists with new detection technology, 2013 Honda Civic WTCC is ready for racing, Volvo brings a whole new 2014 showroom for Geneva's approval.