First Ferrari LaFerrari hits the auction block
Thu, 02 Jan 2014 15:32:00 EST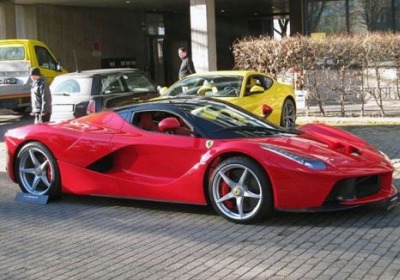 If you haven't laid down your $1.4 million to be one of 499 people to own the new Ferrari LaFerrari by now, then you're already too late. Fortunately, Ferrari's new hybrid supercar has just been listed by German auction site SEMCO Gmbh, meaning that you still have a shot at owning one, but it'll cost you – dearly.

With just 124 miles on the odometer, this particular LaFerrari is being listed at 2.38 million euros – more than $3.2 million USD. But hey, at least that includes the Value Added Tax, eh? If the seller manages to command that asking price, it would be an incredible return on investment every bit as fast as the car itself, which in case your mind needs refreshing, is very fast indeed. Top Speed? Try 217 miles per hour and a 0-60 time of under three seconds.
---
By Jeffrey N. Ross
---
See also: Ferrari 250 GT California could be your day off for $8 million, Alonso and Rossi to field Ferrari at Le Mans?, Ferrari launches 2014 Formula One engine, tests it in a LaFerrari? [w/videos].