Finalists for 2014 Green Car of the Year announced
Thu, 17 Oct 2013 18:00:00 EST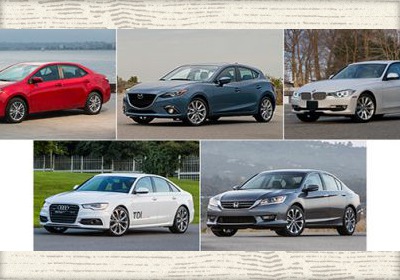 The list of finalists for the 2014 Green Car of the Year has been announced, and in a genuinely bizarre twist, there's only one hybrid and no electric vehicles among the five contestants, despite the arrival of cars like the BMW i3 and Tesla Model S. Taking the place of the EVs are a pair of diesels, repping a technology that last won a Green Car of the Year award in 2009, when the Audi A3 TDI took the title. No diesel was in the running for last year's award.

Naturally, both of the diesel finalists are fielded by the Germans - with BMW's 328d and Audi's A6 TDI getting the nod. In the case of the 3 Series, BMW installed a 2.0-liter, turbodiesel, capable of delivering 180 horsepower and 280 pound-feet of torque, while returning 45 miles per gallon on the highway. Audi and its larger, 3.0-liter, V6 turbodiesel produce quite a bit more grunt, with 240 hp and 428 lb-ft of grunt, but net a very impressive 38 mpg on the highway in the A6.


Finalists for this year's awards include two diesels, three gas-powered cars and a plug-in hybrid.
This year's awards are a coup for gas-powered vehicles, as well. Both the Toyota Corolla and Mazda3 are finalists, with jurors citing the Mazda's i-ELOOP and Skyactiv technology, which allow the handsome car to net up to 41 mpg. The Corolla, meanwhile, offers a new Eco trim, which can return 42 mpg from its 1.8-liter, naturally aspirated, gas engine.

Rounding out this year's crop of finalists is the Honda Accord, which is available in gas, hybrid, and plug-in hybrid variants for the first time. The Accord Plug-In is capable of 115 mpge, while the Accord Hybrid returns 50 mpg in the city and 47 on the highway.

This is the first time in several years that the awards haven't been dominated by electrified vehicles of some ilk. 2013 was won by the Ford Fusion, and saw two other hybrids and three gas-powered cars. 2012, meanwhile, marked a victory for the natural-gas-powered Honda Civic, against two pure electrics, a hybrid and a diesel model. 2011 saw the excellent Chevrolet Volt crowned champion, beating out an EV, two hybrids and a gas-powered model.

This year's awards will be handed out at the 2013 Los Angeles Auto Show by Green Car Journal. We'll be on hand, live in LA, for the awards. Until then, be sure to let us know what car you think deserves the crown in Comments. Scroll down for the official press release from Green Car Journal.

FINALISTS ANNOUNCED FOR 2014
"GREEN CAR OF THE YEAR®"

Green Car Journal to Reveal Winner at LA Auto Show® Press Days

LOS ANGELES, CA (October 17, 2013) - Green Car Journal has identified its five finalists for the magazine's high-profile 2014 Green Car of the Year® program. The five 2014 models include the Audi A6 TDI, BMW 328d, Honda Accord, Mazda3, and Toyota Corolla. These five finalists are also honored as Green Car Journal's "Top 5 Green Cars for 2014" and earn the magazine's "Green Car Product of Excellence" honors.

An increasing number of vehicle models are considered for the Green Car of the Year® program each year, a reflection of the auto industry's expanding efforts in offering new vehicles with higher efficiency and improved environmental impact. Green Car Journal has been honoring the most important "green" vehicles every year at the LA Auto Show, since its inaugural award announced at the show in 2005.

"The diversity of this field of finalists illustrates not only that 'green' has gone mainstream, but also that there is no single approach to achieving ever higher levels of fuel efficiency and environmental performance," says Ron Cogan, editor and publisher of Green Car Journal and CarsOfChange.com. "There's something for everyone in this year's field of finalists, including clean diesel, high efficiency gasoline, and hybrid/plug-in hybrid power featured in mainstream, sporty, and executive models."

Finalists are selected for their achievements in raising the bar in environmental performance. Availability to the mass market is a factor to ensure honored models have the potential to make a real difference in environmental impact, and finalists must be available for sale by January 1st of the award year.

Green Car of the Year® jurors include auto enthusiast and Tonight Show host Jay Leno, plus leaders of the nation's major environmental organizations including Jean-Michel Cousteau, president of Ocean Futures Society; Frances Beinecke, president of the Natural Resources Defense Council; Michael Brune, executive director of the Sierra Club; and Matt Petersen, board member of Global Green USA. Green Car Journal editors round out the 2014 Green Car of the Year® jury.

The Finalists:

Audi A6 TDI
Audi's 2014 A6 TDI blends excellent "green" credentials with unexpected levels of performance in a high efficiency vehicle. Its 3.0-liter, 6-cylinder TDI clean diesel engine with tiptronic transmission and quattro all-wheel drive provides 240 horsepower and 428 lb-ft torque, achieving 0-60 mph in just 5.5 seconds. A start-stop system aids efficiency, as does a lightweight body that makes extensive use of aluminum body panels. This sedan features an EPA estimated 38 highway mpg that enables over 700 miles of highway driving range.

BMW 328d
Featuring the first 4-cylinder BMW diesel engine in the U.S., the new 328d combines exceptionally high fuel efficiency with the performance expected of BMW models. EPA estimated 45 mpg highway fuel economy is achieved with this sedan's 2.0-liter TwinPower clean diesel powerplant, which produces 180 horsepower and 280 lb-ft torque. Efficiency is enhanced with engine auto start-stop and brake energy regeneration. A 328d Sports Wagon is also available. The models are offered in rear wheel drive or with BMW's xDrive all-wheel drive system.

Honda Accord
Honda's popular Accord sedan aims to lead in the efficiency space with an array of efficient powerplant choices including four-cylinder, V-6, hybrid, and plug-in hybrid versions. Even the V-6, the largest engine option, nets 34 highway mpg with the four-cylinder rated at up to 36 highway mpg. The bar raises considerably with the Accord Hybrid at 50 city and 47 highway mpg, and the Accord Plug-In with its 47 city and 46 highway mpg on hybrid power. The Plug-In also offers an EPA rating of 115 MPGe, the highest of any mid-size hybrid sedan in the country.

Mazda3
The all-new third generation Mazda3, this automaker's best-selling model worldwide, is lighter, more efficient, and packed with advanced electronics. The 2014 Mazda3 features an appealing new design and has been built from the ground-up with Mazda's award-winning SKYACTIV technology. The 2.0-liter powered Mazda3 four-door sedan offers best-in-class 41 mpg highway fuel economy, with the five-door hatch coming in at up to 40 mpg. A more powerful 2.5-liter engine with an i-ELOOP capacitor-based regenerative engine braking system gets 38 mpg.

Toyota Corolla
The Toyota Corolla has long been a best-seller due to its blend of efficiency and affordability. With the all-new 2014 Corolla, Toyota adds visual excitement, improved driving dynamics, and even greater efficiency to its popular compact sedan, achieving up to 42 highway mpg delivered by the model's Eco version. This level of efficiency is achieved with a 1.8-liter, 140 horsepower engine featuring the first use of Toyota's Valvematic technology in this country. A driver selectable ECO function moderates acceleration and optimizes on-board systems to enhance mpg.


About Green Car of the Year®
The GCOY award is an important part of Green Car Journal's mission to showcase environmental progress in the auto industry. Since 1992, Green Car Journal has focused on the intersection of automobiles, energy, and environment. Today, the magazine is considered the premier source of information on high fuel efficiency, low emission, advanced technology, and alternative fuel vehicles. CarsOfChange.com presents 'green car' articles online along with a focus on infotainment and connectivity. Green Car of the Year® is a registered trademark of Green Car Journal and RJ Cogan Specialty Publications Group, Inc.

About the Los Angeles Auto Show and Connected Car Expo
Founded in 1907, the Los Angeles Auto Show is the first major North American auto show of the season each year. Press Days for the 2013 LA Auto Show® will be held on Nov. 20 and 21. The show will be open to the public Nov. 22 - Dec. 1. The Connected Car Expo (CCE) will be the first expo to unite automotive and technology professionals in an effort to increase development and foster relationship-building in the connected car industry, providing attendees with access to the key players and top media constructing the future of the connected car. CCE will debut on Nov. 19, and continue in conjunction with the 2013 LA Auto Show Press Days. The LA Auto Show is endorsed by the Greater L.A. New Car Dealer Association and is operated by ANSA Productions. To receive the latest show news and information, follow LA Auto Show on Twitter at twitter.com/LAAutoShow or via Facebook at facebook.com/LosAngelesAutoShow and sign up for alerts at www.LAAutoShow.com. For more information on CCE please visit www.connectedcarexpo.com.
---
By Brandon Turkus
---
See also: Toyota recalling 800k Camry, Avalon and Venza models for AC issue, BMW Motorrad celebrates 90 years with new R nineT roadster [w/video], BMW launches new M Performance accessories for M5, M6.