Fiat-based baby Jeep spotted testing in US and Europe
Thu, 03 Oct 2013 17:47:00 EST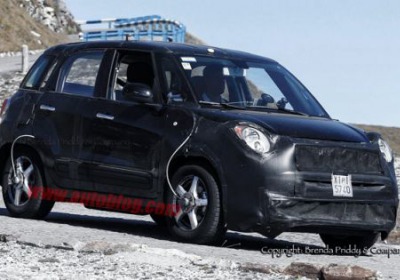 Details remain scarce, but our spy photographers have managed to capture the upcoming Jeep B-segment crossover for the first time, testing in both the Alps and in the US. Shown here as a cobbled-together Fiat 500L mule, the new Jeep model is expected to arrive for the 2015 model year and act as a replacement for the current Compass and Patriot models.

According to our shooter, the new "baby Jeep" will share a platform with the Fiat 500X, and both models will be built on the same assembly line in Turin, Italy. We can't tell much from these images, but the added length apparent on this 500L mule would seem to dispel the recent speculation that the new entry-level Jeep model would be sized closer to the Ford Fiesta – since the 500L is already considerably larger than the Fiesta. Powertrain options will likely mirror other Fiat/Chrysler collaborative vehicles like the Dodge Dart, but this Jeep will also try to live up to its off-road roots with an optional all-wheel-drive system.
---
By Jeffrey N. Ross
---
See also: Chrysler recalling nearly 141k vehicles over electrical woes, What's really going on with the 2014 Jeep Cherokee's transmission issues?, Fiat-Chrysler alliance in jeopardy due to Pentastar's IPO filing?.