Dongfeng-Nissan surprises with Viwa Concept EV for Venucia
Sat, 20 Apr 2013 17:32:00 EST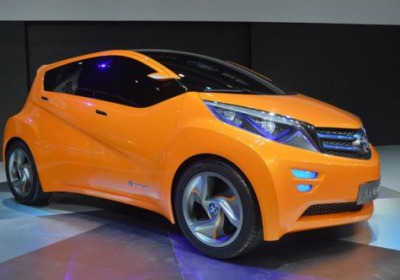 Nissan has a joint venture in China with Dongfeng to make passenger vehicles, and last year the two companies created a sub-brand called Venucia that aims to roll out five cars by 2015. With the gasoline-engined D50 and R50 and a pilot program for the E30 electric car already out, this little orange beast, the Viwa EV concept, could point the way to a future offering.

Looking like a Chevrolet Spark that spent the weekend raving in Ibiza, the Venucia Viwa EV aims to be reliable, practical, efficient and accessible all in one package. Beyond the practical bit, defined as, "packaged with a compact body for easy driving," Venucia hasn't said how any of those other qualities are achieved. In fact, it hasn't even divulged the specifics of the electric powerplant. However, it does say that it will be developing more EVs under the guide of "China's new energy vehicle policy."

You can get a little more info about it in the press release below, or discover the little peach in the high-res gallery above.

DONGFENG NISSAN UNVEILS VIWA CONCEPT AT AUTO SHANGHAI 2013

- New EV concept embodies VENUCIA's vision of future electric mobility
- MY2013 D50 and R50 showcased with improved fuel economy

SHANGHAI, China (April 20, 2013) - Today at Auto Shanghai 2013, Dongfeng Nissan Passenger Vehicle Company (DFL-PV), the passenger vehicle business unit of Nissan's joint venture in China, unveiled VIWA, a new electric vehicle concept, under the VENUCIA brand.

VIWA embodies the vision of future electric mobility for the VENUCIA brand. Following the direction of China's new energy vehicle policy, DFL-PV will develop electric vehicles under the VENUCIA badge with the following attributes:

Reliable: Equipped with the most advanced and reliable EV technologies for the Chinese market based on the globally proven technologies of Nissan Motor Co., Ltd.
Practical: Packaged with a compact body for easy driving
Efficient: Possessing a driving range which meets the daily requirements of Chinese customers
Accessible: Marketed as a car for daily use which consumers can enjoy while contributing to a more sustainable society.

"Environmental protection is the key to the future success for every car company," said Ren Yong, deputy managing director of DFL-PV. "We will continue our efforts to improve fuel economy of our gasoline engines and promote the commercialization of new energy vehicles."

"VENUCIA unveiled its first-ever mass-produced EV, the e30, at the China (Guangzhou) International Automobile Exhibition last November. To reaffirm our contribution to realizing a sustainable society, we will kick-off the e30 EV pilot program in Guangzhou and Dalian this year," he added.

Along with its zero emission vehicles, VENUCIA also displayed the MY2013 D50 (Sedan) and R50 (Hatchback). Compared to its predecessors, the new models offer improved fuel economy of 6.0 liters per 100 kilometers through engine refinement and the addition of a rear spoiler,.

VENUCIA has achieved a total of 70,000 sales since launching its first model, D50, in April 2012.

About Dongfeng Nissan Passenger Vehicle Company (DFL-PV)
Dongfeng Nissan Passenger Vehicle Company (DFL-PV) is a business unit of Dongfeng Motor Co., Ltd. (DFL), Nissan's joint venture with Dongfeng Motor Group Co., Ltd. DFL-PV is engaged in research and development operations, manufacturing and distribution of passenger vehicles. The brand name VENUCIA is derived from the ancient Roman "Venus." The five stars of the brand logo represent the company's five brand promises – respect customers, create value, do the best, achieve world-class quality and seek the dream.

About Nissan
Nissan Motor Co., Ltd., Japan's second-largest automotive company, is headquartered in Yokohama, Japan, and is part of the Renault-Nissan Alliance. Operating with more than 248,000 employees globally, Nissan provided customers with more than 4.8 million vehicles in 2011, generating revenue of 9.4 trillion yen ($118.95 billion U.S.). With a strong commitment to developing exciting and innovative products for all, Nissan delivers a comprehensive range of 64 models under the Nissan and Infiniti brands. A pioneer in zero-emission mobility, Nissan made history with the introduction of the Nissan LEAF, the first affordable, mass-market, pure-electric vehicle and winner of numerous international accolades, including the prestigious 2011-2012 Car of the Year Japan and 2011 World Car of the Year awards.
---
By Jonathon Ramsey
---
See also: Nissan Friend-Me Concept is cooler than its name, About 20k Nissan Pathfinder, Infiniti JX models recalled for potentially faulty brakes, Nissan poaches Ram CEO Fred Diaz.