Dodge Durango to stay classy with Ron Burgundy as spokesperson [w/video]
Sat, 05 Oct 2013 10:48:00 EST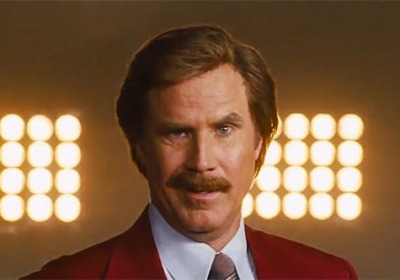 The upcoming 2014 Dodge Durango has a lot of things going for it, including its 290-horsepower V6 and 360-hp Hemi V8 engine options, an eight-speed automatic and aggressive looks. And now it will have Ron Burgundy, the fictional television news anchor played by comedian Will Ferrell, as a spokesperson, Adweek reports. He follows in the footsteps of other non-fictional Chrysler brand spokespeople such as Eminem, Clint Eastwood and the late Paul Harvey.

Though the star of 2004's Anchorman and the upcoming Anchorman 2 is wildly popular, we're not sure we see a Dodge spokesperson in Burgundy. (Please, no womanizing or scotchy, scotch, scotch before test test drives). But at this point there's no turning back: Chrysler's chief marketing officer Olivier Francois previewed three ad spots at the Association of National Advertisers (ANA) Masters of Marketing conference in Phoenix on Friday, and says Chrysler has already filmed 68(!) Durango ads with the fictional newsman.

According to Adweek, one of the ads previewed had Burgundy highlighting the SUV's glovebox size, and in another he compared its horsepower to a white horse standing next to him. Will this help Dodge Durango sales improve? We can only wait and see. In the meantime, feel free to share your thoughts in Comments, and check out the trailer for Anchorman 2 below.



---
By Damon Lowney
---
See also: 2013 Chrysler 300C John Varvatos Limited Edition, Bailout dealership cuts did their job as profits surge, Dodge Charger Pursuit nets quickest lap in police car test.