Dodge Challenger spied exercising supercharged Hellcat Hemi V8
Wed, 23 Oct 2013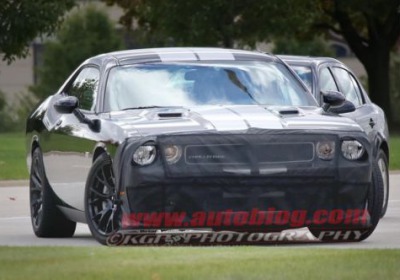 One of the prime complaints against the Dodge Challenger is that, even in SRT8 guise, its 470 horsepower is responsible for hauling over 4,200 pounds of vehicle. For comparison, the 420 hp in the Ford Mustang GT only has to deal with 3,618 lbs. Things only get worse from there, as the higher-performance variants of both the Mustang and the Chevrolet Camaro are far more powerful than an SRT8 without adding on much heft.

So what is Chrysler to do? The correct answer is add a whole lot more grunt to its hefty two-door and even the odds. That's where the all-new Hellcat engine comes into play. We reported on this engine in May, and suggested that the Hellcat, a supercharged powerplant based on a 6.4-liter V8, would easily generate 500 to 570 hp and could likely arrive boasting more than 600 ponies.

Chrysler's ace in its sleeve has now been spied testing, with a number of Hellcat-equipped Challengers running the potent new engine both in more urbanized areas and under the sun of Death Valley. The hoods on these testers have been raised to accommodate the engine, and that camouflage over the fascias of these prototypes is there to hide a larger air intake. We also note what appears to be a new split grille under wraps. As for power output, our spies are now suggesting a Viper-equalling 640 hp from the Hellcat-equipped cars.

Although the Hellcat is being tested in the Challenger, it certainly shouldn't be ruled out for the coupe's platform-mates, the 300 and Charger. As for when we'll see a production car equipped with the Hellcat, it remains to be seen if it will replace the current 6.4-liter Hemi V8 or serve alongside it as the new flagship engine for the Challenger, 300 and Charger. Take a look up top for the full gallery.
---
By Brandon Turkus
---
See also: Dodge unveils Special Service Durango for government fleets, Mopar '14 teased, returns to Challenger, 2014 Dodge Durango Ron Burgundy ads already have 2.7M views [w/videos].