Daimler and Nissan to build luxury cars at new plant in Mexico
Thu, 05 Sep 2013 08:30:00 EST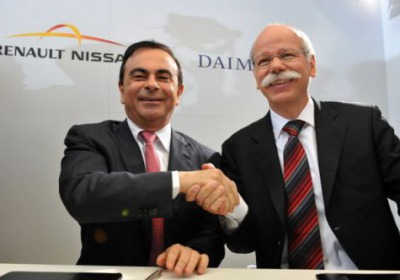 A few years back, when Daimler was looking for a partner to spread the cost of development of small cars, it agreed to collaborate with Nissan on future products, such as vehicle platforms and drivetrains. The latest development in the collaboration concerns the assembly of small luxury cars for Infiniti and Mercedes-Benz at a Nissan plant in Mexico, two unnamed sources told Reuters.

The plant in question, Aguascalientes, is a $2 billion project that will open later this year next to an existing Nissan factory. The upcoming Infiniti Q30 four-door hatchback is expected to be built there, possibly alongside the Mercedes GLA-Class, which is one of several candidates Mercedes is considering to build at this facility, Reuters reports. The GLA will debut at the Frankfurt Motor Show this month, and initial production of the model will take place in Germany. The Q30 could follow a similar path, with assembly starting at Nissan's Sunderland plant in the UK, and then expanding to Aguascalientes later on.

The underlying platform of the Q30 and GLA, codenamed New Generation Compact Car (NGCC), was developed by Daimler. The Q30 would be the first Infiniti produced under the automakers' agreement. Last year, Nissan agreed to make engines that would find their way into Mercedes and Infiniti vehicles.

The NGCC platform also forms the basis of the Mercedes CLA-Class sedan that goes on sale this month, and the Mercedes B-Class Electric Drive, which should reach showrooms next summer, Reuters reports, but those vehicles are slated to be built in Hungary and Rastatt, Germany, respectively.
---
By Damon Lowney
---
See also: Watch this Nissan GT-R Nismo attack the 'Ring, Next Infiniti FX to gain interior volume, Nissan's Le Mans-bound ZEOD RC electric racecar nearing completion [w/video].