Consumer Reports loves the 2014 Cadillac CTS
Mon, 16 Sep 2013 17:01:00 EST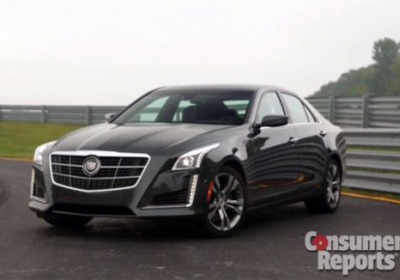 Our first drive of the 2014 Cadillac CTS was just published today... we really liked the Vsport version. And Consumer Reports has some even stronger words of praise for the all-new luxury sedan. We already knew that Cadillac had stepped up its game with the third-gen CTS, but CR bluntly states that the sedan drives better than its German luxury counterparts.

While CR shows plenty of love for the new CTS, the outlet still takes issue with some of the in-car technology including the CUE infotainment system – no surprise there. The testers' offer all manner of positive comments where the impressive handling capabilities of the sedan are concerned, with lots of drifting around CR's private test facility in evidence to bear them out. Scroll down to watch the CTS get put through its paces.



---
By Jeffrey N. Ross
---
See also: 2014 Cadillac CTS Vsport [w/video], Cadillac launching crossover-heavy product offensive, Cadillac's new ad campaign to tell you how to get lucky.