Carlsson SLK 340 Judd is winged up for hill climb glory
Wed, 06 Mar 2013 05:29:00 EST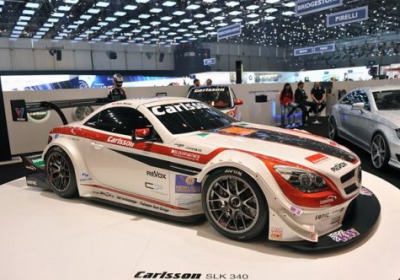 Carlsson has been expertly tuning Mercedes-Benz products for more than 20 years now, but we can't say as we remember the outfit turning out anything quite so racy as this SLK 340 Judd that it has brought along to the Geneva Motor Show this year.

This SLK is meant for competition, obviously, and Carlsson has already booked the car to race in several hill climb events in the E1 category. The purpose-built racer should have a fighting chance to do well in said races, with a shape vetted in wind tunnel testing for maximum downforce, the SLK uses a carbon-fiber bodyshell to help achieve a curb weight of just about 1,720 pounds.

The featherweight SLK's name comes from its 3.4-liter V8 engine, which churns out a wicked 610 horsepower to go with its 317 pound-feet of torque. A Hewland transmission with paddle shift operation manages all of the thrust.

In addition to the European hill climbs on the docket, Carlsson intends on dicing with the likes of Hyundai and Suzuki in this year's Pikes Peak race. We look forward to seeing the SLK on that famous run, to be sure. Find a bit more information about the Carlsson SLK 340 Judd in the official press release below.

The Carlsson SLK 340 celebrates its world premiere at the Geneva Motor Show. This is an absolutely unique race car developed using advanced construction techniques. Entries are planned at national and international hill climb races in the E1 category. Project manager Reto Meisel (42), project manager Martin Burmeister and their Swiss team Meisel Motorsport want to continue the sporting successes of the 190 EVO with this powerhouse and blow away the international competition.

The newcomer in international motorsport captivates with an abundance of modifications. The engineers have subjected the car, which was built from scratch on a body shell, to a comprehensive weight-loss regime. At the same time, it also received a power boost. Thanks to the use of the most modern materials, the Carlsson SLK 340 JUDD weighs in at only 780 kg on the scale. To accomplish this, an ultra lightweight body kit made of carbon was used. The aerodynamic components have been tested extensively, even in a wind tunnel, to connect a spectacular look with a perfect downforce. A closed underbody will further optimize the air resistance of the hill climb race car. Despite extensive changes, the SLK in its racing suit with its powerful rear wing looks extremely stylish. "We developed the design over a long period of time and with lots of feeling. We are proud of the awesome look. As an engineer, it is a pleasure to contribute to such a project, and we can show everything that is technically possible in the vehicle in cooperation with Carlsson", says Dipl.-Ing. (FH) Markus Schuster, Managing Director of Carlsson Germany.

The heart of the racer is the 3.4-liter V8 engine. The engine develops a fabulous 610 hp. It has a maximum torque of 430 Newton meters, while weighing in at no more than 120 kilograms. The racing team relies on a Hewland transmission with a paddle shift.

A 3-way adjustable KW competition suspension ensures optimum road holding for the race car on BBS racing wheels (10x18 front, 13x18 rear) and AVON tires. The brake system of ultralight materials saves additional weight. Maximum support and maximum safety are guaranteed by newly developed racing seats from Fibreworks.

Safety first! In accordance with the regulations, a complex safety cage has been installed which meets all relevant international requirements. A total of 1800 hours of development work has been invested up to the premiere. In this respect it is no wonder that the designers speak proudly of a true masterpiece. Carlsson racing seats ensure optimum lateral support.

Reto Meisel, team leader and driver, has been active in motorsports since 1989: "I'm really looking forward to the challenge of accompanying and coordinating a race car, which started out as a vision on a piece of white paper, right from the beginning. There has never been a race touring car with such extreme performance and technical features."

The list of sporting achievements of the experienced Swiss driver is considerably long. The racer dominated, among others, the German Mountain Championship from 1999 to 2001. He triumphed at the 2002 Swiss Mountain Coupe, and in 2007 and 2009 he became German Touring Car Hill Climb Champion. "Another goal is to participate with the Carlsson SLK 340 at the legendary Pikes Peak race in Colorado, USA. "It will be an honor for us to compete internationally with the factory teams of Hyundai and Suzuki," continued Reto Meisel.
---
By Seyth Miersma
---
See also: The Mansory Speranza proves that money can buy taste and good sense..., Mercedes-Benz A45 AMG is Affalterbach's first big leap into the little pond, Mercedes-Benz CLA45 AMG coming to the New York Auto Show.