Car thief lands Saturn on Fresno roof
Fri, 06 Jan 2012 12:32:00 EST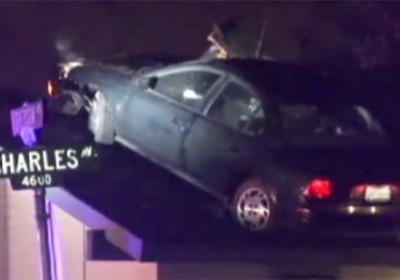 Residents of a Fresno, California apartment building recently awoke to debris falling from their ceiling after a car thief managed to execute a perfect parking job on the structure's roof. Police say 26-year-old Benjamin Tucker stole the Saturn sedan from a nearby house before striking either a curb or some rocks, vaulting the vehicle into the air and onto the roof. After seeing his predicament, Tucker leapt from the roof and fled the scene. Or at least he tried to. Tucker broke his leg in the fall and only made it around a quarter of a mile from the crash when police picked him up.

No one else was harmed in the stunt.

Tucker had two outstanding warrants for his arrest at the time for a hit-and-run and evading police. A special crane had to be called in to remove the Saturn from the apartment roof and the structure will indeed require repairs. Hit the jump for a news report on the incident.


---
By Zach Bowman
---
See also: Lutz dishes dirt on GM in latest Autoline Detroit, GM recalling over 243,000 crossovers over possible seat belt defect, Report: GM temporarily restarts Saturn Outlook, Hummer H3 production.