Cadillac still planning for big things in China
Sat, 20 Apr 2013 16:01:00 EST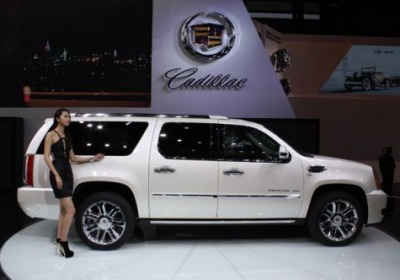 Despite some hiccups, China remains the auto industry's great hope for new vehicle sales, with significant sales gains and a huge upside. Nowhere is that hope more fervent than at General Motors, which offers eight different marques in the Asian nation. China has been GM's single biggest market the last three years running, and is unlikely to give up that title anytime soon. Yet its premiere brand, Cadillac, has remained essentially stagnant, selling just 30,000 units in China last year. That's in a segment where sales of luxury vehicles has outpaced that of the larger Chinese market. So what gives?

According to Cadillac officials Autoblog spoke with in China this week at the Shanghai Motor Show, it's been a problem of product – they haven't had the right ones. Displacement taxation issues, import tariffs and currency fluctuations have all conspired to make the brand's products less appealing than they might otherwise have been. But GM is stepping on the gas with Cadillac, and executives are eyeballing 100,000 sales by 2016 – more than triple the Wreath and Crest's current volume. And the expectations for the brand only get more ambitious from there – they're shooting for 10 percent of the luxury market by 2020. Bob Socia, President of GM China, promises that there will be a new Caddy launched in the market each year from now through 2016 and most will be built in China. Characterizing the company's efforts to revive the brand's fortunes as a "relaunch" of sorts, Cadillac also figures to gain dealers as GM expands its sales outlet footprint westward.

New products like a made-in-China XTS sedan (with a market-specific 2.0-liter four-cylinder to avoid heavy displacement taxes) will help, and Socia hinted that the ATS sport sedan could be next in line for in-country production. The SRX crossover – currently the brand's best-selling model in China – will also likely get a long look for future local production when the next-generation model is introduced. In the meantime, Cadillac unveiled the Escalade ESV Hybrid (shown above) as its latest model addition to capitalize on the market's white-hot luxury SUV segment.

In addition to new products, GM China is also investing in developing market-specific technology at its facilities in Shanghai. Much of that will come in the form of apps for its infotainment systems like Cadillac's CUE, including connectivity for popular social media utilities like Weibo, which executives described as China's Twitter.
---
By Chris Paukert
---
See also: Is this the 2014-15 Cadillac Escalade?, Cadillac executive appointments have global flair, A few signs that Cadillac's revival is taking hold.