Cadillac launching crossover-heavy product offensive
Fri, 06 Sep 2013 09:29:00 EST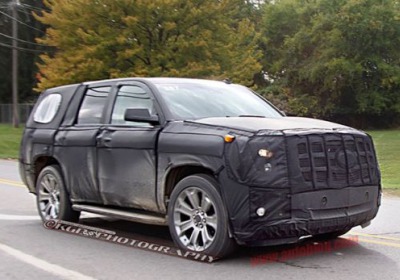 Utilizing information provided by Cadillac suppliers, Reuters says that Cadillac is preparing two more crossovers that will bow after its current product initiative is complete. According to the report, a year after the next SRX arrives in 2016, a pair of CUVs will be unveiled that will bracket it in size, and they'll be headed for the US and Chinese markets.

That is years away, though. For now, the company's attentions are on the nearly here CTS and ELR range-extended coupe, the next Escalade SUV (shown above), an ATS coupe, and the range-topper that will sit above the XTS. That, and possibly an even more impressive range-topper that promises to be the mean and majestic super-luxe unicorn Cadillac we've been dreaming about for more than a decade now.

In response to the issue of how German crossovers might be having an impact on Cadillac's future plans, a company source said - rightly, we think - "we don't need to duplicate the Germans." That doesn't mean, however, that it can't wade deeper into a market segment that the Germans are making a ton of money in. In fact, and since everyone is doing it, we'd be surprised if Cadillac didn't, even if it won't happen for another four years.
---
By Jonathon Ramsey
---
See also: Cadillac's new ad campaign to tell you how to get lucky, GM intends to offer semi-autonomous vehicles by 2020, Cadillac flagship, possible production Elimiraj, caught testing.