Cadillac V-Series Academy comes to Las Vegas [w/video]
Thu, 31 Jan 2013 08:26:00 EST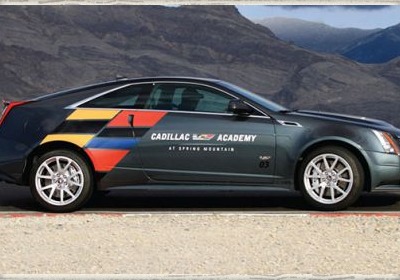 General Motors has added another high-speed education course to the curriculum at the Spring Mountain Motorsports Ranch outside of Las Vegas, Nevada. The desert track already hosts the Ron Fellows Performance Driving School with Chevrolet Corvettes, including the ZR1, and they've just added the Cadillac V-Series Academy.

Open now, the one- and two-day performance driving school teaches "the finer points of high performance driving" using the 556-horspower instructional aids known as the CTS-V sedan, coupe and wagon. This is different than than using the CTS-V at the Monticello Motor Club on the east coast – that's part of a sponsorship deal that Cadillac has with the track. The driving course at the Motorsports Ranch is its own program that was developed by Fellows, and we have no reason to think the Cadillac edition won't be just as thorough and enjoyable as the one with Corvettes.

Unlike the 'Vette edition, however, it doesn't appear that you get an invitation to the program if you buy a CTS-V model. Classes are capped at 12 participants and run $1,295 for a single day, $2,295 for two days. There are a video and a press release below with more info.



Cadillac Creates V-Series Performance Playground
Educational driving academy opens at Spring Mountain Motorsports Ranch

DETROIT, 2013-01-29 – This month marked the public opening of the Cadillac V-Series Academy at Spring Mountain Motor Resort & Country Club, where enthusiasts can register for one- and two-day immersions to learn the finer points of high performance driving in the Cadillac CTS-V.

The sprawling automotive playground outside Las Vegas features more than four miles of racetrack and 125 feet of elevation change. The V-Series Academy at Spring Mountain curriculum will continuously challenge participants with a blend of car control exercises and on-track performance driving, tailored to explore the capabilities of Cadillac's V-Series family.

V-Series Academy curriculum was designed by legendary race car driver Ron Fellows, a class winner at the 24 Hours of Daytona and Le Mans.

"The experience of driving a Cadillac V-Series car is extremely convincing," said Don Butler, vice president of Cadillac marketing. "This new partnership with Spring Mountain Motorsports Ranch opens a new experience in a truly luxurious setting for consumers to enhance their skills and put a series of world-class performance cars to the test."

The Cadillac V-Series Academy classes at Spring Mountain Motorsports Ranch will be offered throughout the year and are limited to 12 students per session. One-day sessions will be $1,295 and two-day immersions are $2,295. To register, visit www.CadillacVAcademy.com.

Cadillac has been a leading luxury auto brand since 1902. In recent years, Cadillac has engineered a historic renaissance led by artful engineering and advanced technology. More information on Cadillac can be found at media.cadillac.com.
---
By Jonathon Ramsey
---
See also: 2013 Cadillac XTS [w/video], Autoblog Podcast #318, Artist imagines eerie world where cars have no wheels.