Buick Verano to go turbo-only for 2014?
Sat, 22 Dec 2012 16:58:00 EST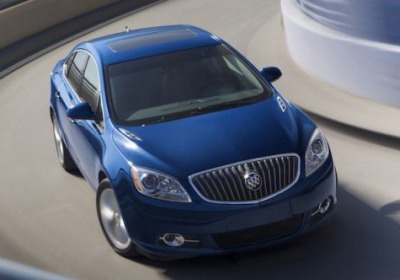 If VIN tags recently posted online prove accurate, the 2014 Buick Verano may be getting a new base engine. Presently the Verano makes use of GM's 2.4-liter Ecotec four-cylinder engine in non-turbo trim; 2014 documentation appears to indicate that GM's entry-level luxury compact will instead feature a 1.6-liter turbocharged mill.

If this is the same engine seen in Europe, GM Inside News suggests it may offer 192 horsepower and 170 pound-feet of torque – useful improvements over the larger naturally aspirated mill's 180 hp and 171 lb-ft. More importantly, the downsized engine would likely improve on the Verano's current fuel mileage estimates of 21 city and 31 highway.

We like the Verano in both of its current iterations, but the 1.6 turbo engine sounds like a worthwhile upgrade if this reports turns out to be true. Plus, if more performance is your bag, baby, there's always the Verano's optional 2.0 turbo engine with an impressive 250 horsepower and 260 lb-ft from just 2.0 liters of displacement.
---
By Jeremy Korzeniewski
---
See also: 2013 Buick Encore, Movie Review: Black Air: The Buick Grand National Documentary, J.D. Power: Mini, Lexus again offer most satisfying sales experience.