Bentley Mulsanne convertible expected to be greenlit this year
Sat, 08 Sep 2012 17:47:00 EST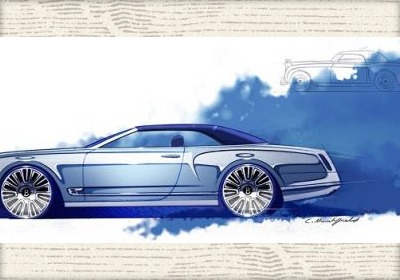 That was quick – it was only was only three weeks ago that the Bentley Mulsanne Vision concept, a droptop take on the brand's flagship sedan, was sketched out for the Pebble Beach crowd. Now Autocar reports that a production version is expected to be approved later this year, with a launch something like two years away. And even though it hasn't been officially given the go-ahead, it has a price: "at least £275,000" ($436,232 U.S.). That price would make for a £50,000 premium ($79,313 U.S.) – at least – over the current UK price of the Mulsanne sedan.

Just as the Continental GTC differs from its coupe sibling, Autocar says the Mulsanne cabrio would be unique from the A-pillars back as compared to the sedan. Shortened by roughly six inches in both length and wheelbase, frameless doors and a lowered windshield will contribute additional rakishness, and note the rear fender treatment meant to evoke the fifties-era Bentley R Type in the upper right corner of the sketch above. At launch it is predicted that power will come from the twin-turbo 6.75-liter V8, but Autocar predicts that V12 power being developed for the production version of the EXP 9 F SUV will eventually find its way up front.
---
By Jonathon Ramsey
---
See also: 2012 Pebble Beach Concept Car Lawn offers a tutorial in cars to come, Volkswagen Group previews its wares on eve of Geneva show, Bentley courting Maybach celebs with letter-writing campaign.