Bentley Flying Spur pictures leaked early
Tue, 19 Feb 2013 11:28:00 EST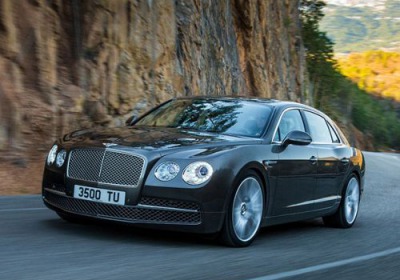 We can imagine that automakers are among the groups salivating at the prospect of a colony on Mars – perhaps a photo studio on the red planet will be far enough away from the terrestrial Internet to keep everything they've got from leaking all over the web. In the midst of Bentley's teasing for the next-generation Flying Spur, someone got in early on a set of photos and decided to share them with us.

The transformation is all about character, the super sedan's lines getting injected with a whole lot more of it. The family face of the Continental line is evident, the new Spur getting a more upright grille than before and a Mulsanne-esque undivided lower grille. The front fenders get narrow, horizontal vents, and behind that the character line that starts with at the hood shutline runs in a long arc to the rear door, then rolls up into haunches that terminate at the very back. Lower down, a character line cuts up the bulk up the sides. In profile there is a definite hint of this being a junior Mulsanne.

The only item we see at the moment that could take some getting used to are the horizontal taillights. Housing a large single element topped by curved red brows, our initial impression is that they lack the flow of the rest of the car. Inside, it's what you'd expect from a Bentley.

There's a chance we'll know more about it later today, the date Bentley planned to fill us in on the union of performance and luxury. Or, knowing the Internet, we might know more even sooner...
---
By Jonathon Ramsey
---
See also: Bentley teases new Flying Spur sedan, Bentley SUV given green light by VW board, Bentley teases new Flying Spur before Geneva debut.