BMW X4 opens up alongside its boxier brother
Tue, 01 Oct 2013 13:30:00 EST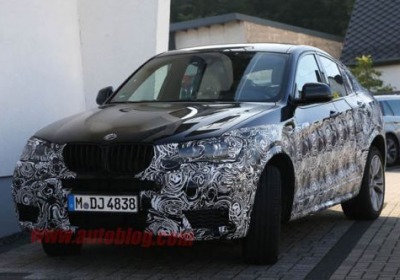 It doesn't seem so long ago that BMW (not to mention Audi, Volvo and a handful of other European automakers) weren't in the crossover market. But it's been over a decade since BMW began producing the first-gen X5, and in the fourteen years since, the Bavarian automaker has steadily expanded its portfolio to include the X1, X3 and X6.

The next to join the family will be the X4, which is essentially to the X3 what the X6 is to the X5. That is to say, basically the same vehicle, only with an (arguably) more stylish but less utile roofline. Previewed in concept form at the Shanghai Auto Show half a year ago, the X4 has been snapped by our plucky paparazzi in the past, but this is the first time we've seen inside.

Not only that, but the prototype in question was spotted next to the current X3 on which it is based, which gives us ample opportunity to see the differences between them. Of course, that still primarily comes down to the slantback profile, because otherwise, the two are essentially the same inside and out. Or at least they will be: many of the differences between the two are expected to port over to the X3 when it's refreshed next year, including some subtle interior upgrades – just not the roofline.
---
By Noah Joseph
---
See also: Looking back at 84 years of BMW roadsters, BMW recalls over 76k 2012-2014 models over brake failure, Hyundai, BMW in plant talks with Mexican officials.