BMW M3 driving off cliff is a chilling PSA
Mon, 10 Jun 2013 14:57:00 EST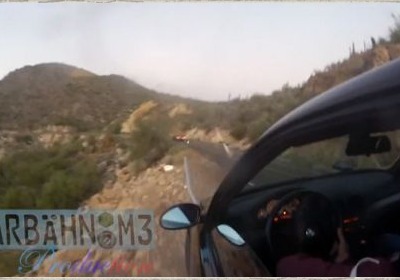 We're a little shocked that the unnamed owner of this cliff-diving E46 BMW M3 would upload the in-car footage of his accident to YouTube. Not only that, he uploaded two videos: raw footage of his roll down the cliff (it looks like somewhere in the Southwest, maybe Arizona) and a tribute video for his BMW that suffered the most severe consequences of understeer. Not only does uploading the videos leave him wide open for judgment by fellow enthusiasts (just read the YouTube comments), but we imagine if the police and his insurance company somehow don't know about the incident already, they will shortly. Scroll below to view for yourself.

The raw footage shows the sort of driving that led to the M3's violent tumble, and it serves as a good public service announcement reminder for everyone out there: Just like the Spengler's streams, double yellow lines aren't meant to be crossed. Also, hard driving is one thing, but hammering on public roads at speeds clearly above your skill levels as a driver is not only a recipe for legal trouble, it's a script for ruining your car at the very least, if not your life.





---
By John Neff
---
See also: BMW readying impressive track-focused M Power App, 2013 BMW R1200GS and HP4 duel at Circuito de Almeria, BMW X1 EV for Zinoro spotted.