BMW 4 Series Convertible basks in the sun
Wed, 07 Aug 2013 14:01:00 EST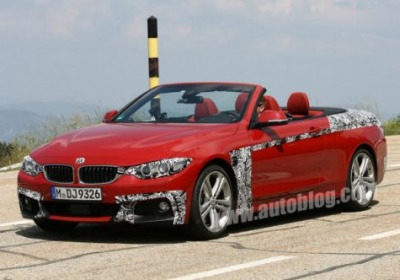 The BMW 4 Series Convertible will show its non-camouflaged face sometime later this year, but our spies recently caught this nearly naked prototype out getting some sun. As you'll recall, the droptop 4 Series replaces the 3 Series Convertible in the BMW range, and if our recent stint behind the wheel of the new 435i Coupe is anything to go on, this topless 4er should be quite a fun runabout for sun-drenched motoring.

To no one's surprise, the 4 Series Convertible shares all of its design with the 4 Series coupe, save, of course, the obvious roofectomy. Beyond that, the topless 2+2 will use the same engines and transmissions as the coupe, meaning it should arrive in the US in both 428i and 435i guises, powered by a 2.0-liter turbocharged inline-four and 3.0-liter turbocharged inline-six, respectively. Both six-speed manual and eight-speed automatic transmissions will be available.

The car spied this time around has the full M Sport visual treatment, with the revised (and better-looking) front fascia, larger 19-inch wheels, and attractive Melbourne Red paint. Interestingly, it appears this prototype has the standard xenon headlamp setup, rather than the full-LED option that's also available.

BMW has not officially confirmed if the 4 Series Convertible will debut at the Frankfurt or Los Angeles auto shows, but with production expected to begin at the end of the year, looks like this droptop will arrive just in time for winter.
---
By Steven J. Ewing
---
See also: 2015 BMW i8 Prototype, BMW 1 Series getting a small nose job, BMW i8 headed to Frankfurt.